Archive for the 'white trash land' Category
Over the past few weeks, several of my peers in the podcasting community  have reached the milestone of 100 shows.  Congratulations to Mark and Bob at the Canadian Podcast Buffet, Isabelle and Dave at Broca's Area, Mitch Joel at Six Pixels of Separation, and Javier, Gerard and the crew at the Hands and Feet Show.  The Bob and AJ show is at show 98 and should be able to release their 100th show before Podcasters Across Borders in June.
My current episode of For the Sake of the Song with Kyle Heimann from Popple is Episode 50.   I was feeling a little down that it will be some time before I reach my 100th episode, then I started doing soime math.  I currently have  6 more shows 'in the can' to be released between now and the end of June.  With podcast extras, and other special episodes I have 65 produced shows on my For the Sake of the Song site.  I also produced 25 audio podcasts for my Lenten multimedia project, 40 Days of Catholic Media on my Catholic Canadian site. We produced 14 episodes of the Podcamp Toronto Podcast this winter.  My recording of my brother in law, Drew Beatty's podcast novel, White Trash Land has 23 sections.    Since October 2006, I have hosted about 20 episodes of the Librivox Community Podcast.  I have also completed 89 sections of public domain books and poetry for Librivox.   There are probably a couple special one-off projects with groups like Twisted pines that I'm overlooking as well.
Just a sec while I do the math here.
65 plus 25– carry the one,  add 14 plus 23, then 20 more add 89 equals…
236 audio programs that I have produced in the last 18 months or so.
(give or take a few)
Well none of my projects is currently near the century mark, I do believe I'm amassing a fair body of work.
Enough of blowing my own horn.  I now return you to the regularly scheduled conversations with some wonderful songwriters.
Filed Under (
audiobook
,
Barrie
,
blog
,
for the sake of the song
,
librivox
,
librivox community podcast
,
Midland
,
Ontario
,
Simcoe County
,
white trash land
,
whitetrashland
) by Sean on October-11-2007
Listen to
Librivox Community Podcast Show #57
— Ductapeguy's Podversary
This episode of the Librivox Community Podcast marks my (ductapeguy's) one year anniversary of podcasting. To celebrate, Jim Mowatt and I had a wide ranging skype conversation. I really consider being a Librivox volunteer and helping to produce the community podcast was my University of Podcasting. During the conversation we talk about current news around the Librivox community, as well as my other podcasts, For the Sake of the Song, and White Trash Land.
Topics Discussed:
Librivox on Twitter
Gesine provides an overview of ways to subscribe to librivox books using RSS, itunes, or by Email. Thanks To Tis and JackDale for setting up the code for the Chapter a Day Emails. You can also now click a link on the forum page of any work in progress to be informed when that audiobook is complete.
Explanation of the recent outages on Librivox.org
Changes to the Librivox Uploader.
Discussion of the Flac Audio format.
Special Rules Projects currently underway in the Librivox Community:
SPECIAL RULES MYSTERY: The 2nd Latchkey by Williamson

SPECIAL RULES: Exercises in Knitting by Cornelia Mee
Sean (ductapeguy's) other projects:
For the Sake of the Song: A podcast featuring interviews with songwriters and their songs.

White Trash Land A podcast novel by Andrew Beatty. Narrated by Sean McGaughey
Other sites mentioned:
JC Hutchins Seventh Son Trilogy
Sean's Really Bad Review
Sean and Jim discuss a terrible user review Sean received on podiobooks.com and the librivoxian response to it. The discussion continued into the time honored, "What if I suck?" into styles of reading and the privilege and responsibility it is to be a reader of another person's words.
Kara (kayray) and Henry drop by with this week's stats.
To Subscribe to the Librivox Community Podcast, go to http://feeds.feedburner.com/LibrivoxCommunityPodcast
or hit this itunes link to get you to the subscribe page http://phobos.apple.com/WebObjects/MZStore.woa/wa/viewPodcast?id=203970211
Past and present Librivox Community Podcast files can be found at Archive.org
Archived shownotes for the Librivox Community Podcast can be found at http://librivox.org/category/librivox-community-podcast/
and the rss feed for those shownotes is http://librivox.org/category/librivox-community-podcast/feed
Episode 4- Angels
[ 15:09 ]
Play Now
| |
Download
(4141)
I have no guest for Episode 4, just little old me and 2, count 'em 2 brand-spanking new songs.
Theme Music: For the Sake of the Song (©2003 S. McGaughey)
Last week I was deeply moved by this picture in the Toronto Star on Thursday March 29.
The picture, by Cathie Coward, from the Hamilton Spectator shows the impression left when a 5 year old boy fell 9 stories from a balcony– and lived to tell the story. That very day I wrote the song, Angels (© 2007 Sean McGaughey). I hope it moves you as much as it moved me. The article and picture can be found here (from the Kitchener-Waterloo Record).
Every week the volunteers at Librivox.org choose a public domain poem to be recorded by as many volunteers as possible. This week's poem is Beautiful Soup by Lewis Carroll from Alice in Wonderland.
Song #2 Beautiful Soup ( Written by Lewis Carroll Arranged by Sean McGaughey). I have dedicated my arrangement of Beautiful Soup to the public domain.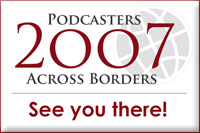 Links Mentioned in this Episode:
Upcoming Guests of For the Sake of the Song: Aaron Howes, Ken Allen, Pushbuttons, Chuck Baker and Russ Clayton.
Song 3: Chuck Baker: Music for Depicting Fight Scenes, Riots, etc.
Add this podcast to your favorite podcatcher at
http://feeds.feedburner.com/For_The_Sake_Of_The_Song
Librivox Community Podcast 26 March 8, 2007
librivox_community_podcast_26.mp3
43:30
Hosts: Sean McGaughey (ductapeguy) and Jim Mowatt with special guest, Hugh McGuire
LV Theme

Librivox Hellos to Podcamp Toronto

Introduction and how Jim was able to "attend podcamp"

, live from Podcamp Toronto 2007

Interview with Steve "Snowball" Saylor from This Week in Geek

Discussion with Jim Regarding the VoxForge Speech Recognition thread Help Improve Open Source Speech Recognition, on the forum

Stats by Hugh

Interview with Connie Crosby

Promo Time:

Help us to complete as many books as possible during MARCH MADNESS!

Sean (ductapeguy) recorded a book written by his brother-in Law Andrew Beatty, White Trash Land and it is just about to be released on Podiobooks.com.

Jim gives an overview of Newly Started Projects.

darwin & boing boing Discussion on the completion of Darwin's Origin of the Species and BoingBoing.

Blooper by ductapeguy.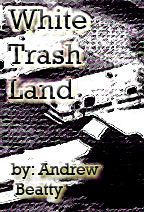 For a surprise Christmas gift, I recorded the novel White Trash Land by my brother-in-law, Andrew Beatty. Andrew wrote the book a couple years ago and you can read the whole thing on his blog.
The recording of White Trash Land will soon be available as a podcast novel on podiobooks.com. .
Think of it as an old-fashioned radio serial with the internet. Stay tuned for announcements of how to listen to the podcast novel chapter by chapter.
Listen below for the official
White Trash Land trailer #1
and
White Trash Land trailer #2
Feel free to download these trailers for use on your podcast.