For the Sake of the Song with Paul Quarrington
[ 50:02 ]
Play Now
| |
Download
(8940)
January 21, 2010: Today the great Canadian author, musician and raconteur, Paul Quarrington passed away at the age of 56 after a long battle with lung cancer.  Paul has long been  one of my favorite novelists, and he was a mighty fine songwriter as well.  I was honored to interview him for my podcast a couple of year ago. I first released this show on April 8, 2008.
Safe Journey Paul.  May you rest in peace.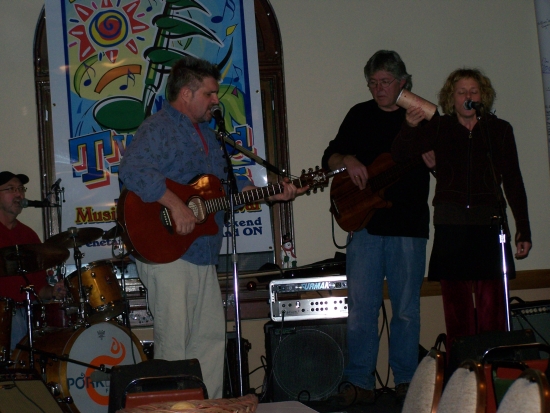 For many years I have enjoyed the novels of Paul Quarrington. Paul is a Canadian author who has written novels, magazine articles, screenplays and songs for over 30 years. He has received the prestigious Governor General's Literary award for English Fiction and the Stephen Leacock Award for Humour. In the early 80's, he had a number 1 Canadian single with Martin Worthy as Quarrington-Worthy. He and Martin Worthy also toured for many years with Joe Hall and The Continental Drift. They are still together as the core of Pork Belly Futures, which also includes Chas Elliot, Stuart Laughton and Rebecca Campbell.
This episode of For the Sake of the Song is a bit unusual. In November, Pork Belly Futures played a benefit concert for the Twisted Pines Music Festival in Penetanguishene. Paul Quarrington and Claire Cameron also did public readings at the Midland and Penetanguishene public libraries. Their day was so tightly booked that I could not record a dedicated 1/2 hour interview with Paul. Instead, you will hear us at the library readings, performances by Pork Belly Futures at the concert that evening, and short interviews with Paul Quarrington, Martin Worthy and Chas Elliot.
E njoy
Songs:
Theme Music: For the Sake of the Song (©2003 S. McGaughey)
A Reading from King Leary (1987) (© Paul Quarrington)
Gladstone Hotel (© Paul Quarrington)
Bon Vivant (© Paul Quarrington)
Gladstone Hotel (© Paul Quarrington)
You can leave comments on the blog, send me an email to ductapeguy at hotmail dot com, send me a voice feedback at 206-337-0611, or join the For The Sake of the Song Podcast group on Facebook.
Add this podcast to your favorite podcatcher at
http://feeds.feedburner.com/For_The_Sake_Of_The_Song