Archive for the 'podcamp' Category
Standard Podcast
[ 8:08 ]
Play Now
| |
Download
(13130)
On the 4 hour drive to Podcamp London, this morning, I had the idea to do a session where I would demonstrate how to use audacity to produce a podcast whilst producing a podcast. Â I chose the topic of comfort food. Â At the opening session in the morning, Â I asked people to record audio clips about their favorite comfort foods, then send them to me by email, send me a link or even by bluetooth to my phone. Â (One guy tried the bluetooth trick but it didn't work). Â  Then at 1:30 I attached my computer to a projector in a seminar room, gathered up the clips and produced this short podcast. Â All the while, we were discussing podcasting, the tools I was using and the importance of story.
Thanks to Nick, Joe, @anthonymarco and all the people who attended the session. Â The closing music is Peanut Butter Sandwiches by Popple .
Enjoy.
4TSOTS with Jody Gnant
[ 30:38 ]
Play Now
| |
Download
(5738)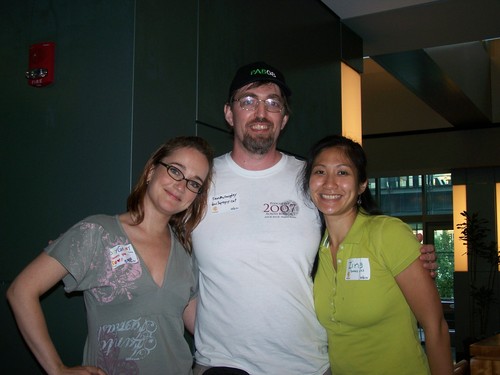 Last summer,  I attended Podcamp Boston.  While Zina (from the Secrets of Battlestar Galactica Podcast) and I were walking in downtown Boston heading for lunch, we saw a beautiful young lady walking down the street talking into laptop held in front of her.  It turned out that she streams her whole life on the Internet.  Later at podcamp, I ran into her again and introduced myself.  She is Jody Gnant and she has an amazing story to tell about indie marketing over the net.  She actually traded one year's rent on her house in Phoenix to Kyle MacDonald from one red paperclip for studio time to complete her album.  We talked at the end of a long day at Podcamp Boston about songwriting, new media, and took questions from her live streaming audience.   Check out her music and lifecast at jodygnant.com.
Songs:
Theme Music: For the Sake of the Song (©2003 S. McGaughey)
From the Middle (© Jody Gnant)
Me Who Changed (© Jody Gnant)
Great Day  (© Jody Gnant)
You can leave comments on the blog, send me an email to ductapeguy at hotmail dot com, send me a voice feedback at 206-337-0611, or join the For The Sake of the Song Podcast group on Facebook.
Add this podcast to your favorite podcatcher at
http://feeds.feedburner.com/For_The_Sake_Of_The_Song
For the Sake of The Song is fast approaching its 100th episode.  Join us for a live recording celebrating this milestone on Friday June 5, 2009 at 7pm EDT at the Rye Cafe in Midland, Ontario.   My guests for the evening will be Marlon Gibbons, Jennifer Ives and Ken Allen.  We will be recording one or two live episodes of For the Sake of the Song followed by musical performances by each of us.  We will also be streaming the event live over ustream.  Stay tuned to ductapeguy.net for more details.  There is no cover charge for this event, but we will be accepting donations for Stellula Music in the Schools.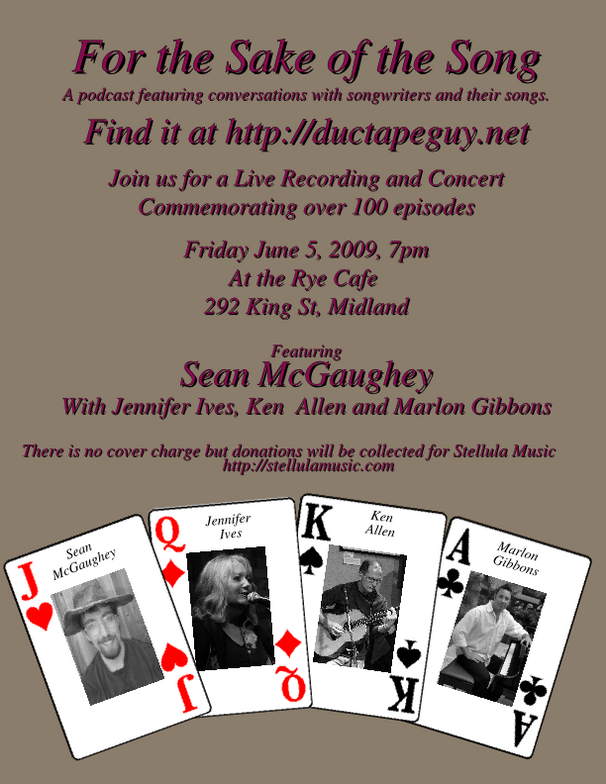 Free is Good- Podcamp London Talk
[ 45:38 ]
Play Now
| |
Download
(3461)
Podcamp London was held on April 28, 2009.  It was a wonderful gathering of podcasting, tech and social media enthusiasts from throughout central Ontario.     Kudos go to Bill, Titus, Will and all the organizers of the event.
John Meadows of the On the Log podcast and I presented a session at Podcamp London entitled:  Free is Good about free and open source audio production and podcasting tools.  Here are the audio and the slides of that session.  (Click on the slide to advance)
[kml_flashembed fversion="8.0.0" movie="https://ductapeguy.net/wp-content/uploads/2009/05/free_is_good-podcamplondon-seanmcgaughey-johnmeadows.swf" targetclass="flashmovie" publishmethod="static" width="500" height="375"]
[/kml_flashembed]
Download pdf of the presentation.
Download an ODP (OpenOffice) version of the presentation.
Filed Under (
audiobook
,
Barrie
,
blog
,
general
,
librivox community podcast
,
Midland
,
news
,
Ontario
,
podcamp
,
podcamptoronto
,
podcamptoronto2008
) by Sean on January-22-2008
Here's a little roundup of my podcasting activity for 2007.
I have released 40 Episodes of For the Sake of the Song thus far and have about 9 ready to go in the upcoming weeks.
On the weekend of October 28, I was feeling sorry for myself that I wasn't at Podcamp Boston 2 so I called several of my friends who were at Podcamp Boston and released about 4 Podcamp Boston Special Reports.
These reports evolved into a regular podcast for Podcamp Toronto with Connie Crosby. We have currently produced 6 Episodes of the Podcamp Toronto Podcast leading up to the event on February 23 and 24.

I produced a Podcamp Toronto audio promo to use on your podcast
.
2007 Also saw the release of my recording of my brother-in-law, Drew Beatty's novel, White Trash Land, on Podiobooks.com . It has done fairly well for Andrew there.
I've continued to record audiobooks with Librivox.org and I continue to be a semi-regular host for the Librivox Community Podcast. Here is a list of the 15 podcasts I hosted for Librivox in 2007.
Episode 40 with Mark Blevis
[ 48:29 ]
Play Now
| |
Download
(3792)
In the podcasting community, Mark Blevis needs no introduction. He is co-host of the Canadian Podcast Buffet and Just One More Book!. His other podcasts include Electric Sky , Growing Enthusiasm , The Robert Farrell Podcast and Swimming In Literary Soup. He also maintains the Canadian Podcast Directory and organizes Podcasters Across Borders, along with Bob Goyetche. Mark is also a songwriter and musician, having played in the Robert Farrell Band. He has a sample song available as Mark Harold Band on the Podsafe Music Network.
Our discussion was wide ranging from music, to podcasting and beyond.
Name Dropping: (Links Discussed in this Episode)
Robert Farrell Band
Jowie Taylor and the Six String Nation
Podcasters Across Borders
Derek Miller and the Neurotics
Librivox
Canadian Podcast Buffet
Podcasters Across Borders
Jay Moonah: Online Music Marketing Podcast (Sadly discontinued but still a tremendous resource)
Baba's Beach
Jonathan Coulton
Matthew Ebel
Uncle Seth
Mix Tapes
Downhill Battle: Home Taping is Killing the Music Industry… and It's fun!
mechanical royalties
Songs:
Theme Music: For the Sake of the Song (©2003 S. McGaughey)
Freedom for My Soul (© Mark Blevis and Robert Farrell) from the Podsafe Music Network.
Six String Nation(©2007 S. McGaughey)
Add this podcast to your favorite podcatcher at
http://feeds.feedburner.com/For_The_Sake_Of_The_Song
Both Mark and I will be at Podcamp Toronto,  a free 2 day conference February 23 and 24, 2008. Check it out at http://podcamptoronto.wordpress.com

Download a Podcamp Toronto audio promo to use on your podcast here or here.
In November I was asked to give a presentation on listening to and creating podcasts at the Penetanguishene Public Library. Here are my slides and notes.
I Have My Own Internet Radio Show … And You Can Too
Sean McGaughey
Musician and Teacher

CD: For the Sake of the Song

Podcast: For the Sake of the Song– Conversations with Song https://ductapeguy.net

Volunteer reader of Audio Books for http://librivox.com

Organizer and Blogger for Podcamp Toronto http://podcamptoronto.wordpress.com
What is a Podcast?
From: http://podcasts.culture.ca

A podcast is an audio or video media file that is made available on the Internet; it is much like a radio show or a video that you can listen to or watch on demand, either on your computer or — if you transfer it — on a portable media player.

Equipped with a microphone and recording software, just about anyone can make a podcast.
Examples of Podcasts
Dancing With Elephants http://dancingwithelephants.libsyn.com/
Radio Adventures of Doctor Floyd http://doctorfloyd.com