Episode 4- Angels
[ 15:09 ]
Play Now
| |
Download
(4147)
I have no guest for Episode 4, just little old me and 2, count 'em 2 brand-spanking new songs.
Theme Music: For the Sake of the Song (©2003 S. McGaughey)
Last week I was deeply moved by this picture in the Toronto Star on Thursday March 29.
The picture, by Cathie Coward, from the Hamilton Spectator shows the impression left when a 5 year old boy fell 9 stories from a balcony– and lived to tell the story. That very day I wrote the song, Angels (© 2007 Sean McGaughey). I hope it moves you as much as it moved me. The article and picture can be found here (from the Kitchener-Waterloo Record).
Every week the volunteers at Librivox.org choose a public domain poem to be recorded by as many volunteers as possible. This week's poem is Beautiful Soup by Lewis Carroll from Alice in Wonderland.
Song #2 Beautiful Soup ( Written by Lewis Carroll Arranged by Sean McGaughey). I have dedicated my arrangement of Beautiful Soup to the public domain.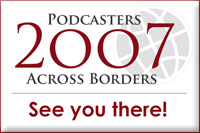 Links Mentioned in this Episode:
Upcoming Guests of For the Sake of the Song: Aaron Howes, Ken Allen, Pushbuttons, Chuck Baker and Russ Clayton.
Song 3: Chuck Baker: Music for Depicting Fight Scenes, Riots, etc.
Add this podcast to your favorite podcatcher at
http://feeds.feedburner.com/For_The_Sake_Of_The_Song