Archive for the 'news' Category
In November I was asked to give a presentation on listening to and creating podcasts at the Penetanguishene Public Library. Here are my slides and notes.
I Have My Own Internet Radio Show … And You Can Too
Sean McGaughey
Musician and Teacher

CD: For the Sake of the Song

Podcast: For the Sake of the Song– Conversations with Song https://ductapeguy.net

Volunteer reader of Audio Books for http://librivox.com

Organizer and Blogger for Podcamp Toronto http://podcamptoronto.wordpress.com
What is a Podcast?
From: http://podcasts.culture.ca

A podcast is an audio or video media file that is made available on the Internet; it is much like a radio show or a video that you can listen to or watch on demand, either on your computer or — if you transfer it — on a portable media player.

Equipped with a microphone and recording software, just about anyone can make a podcast.
Examples of Podcasts
Dancing With Elephants http://dancingwithelephants.libsyn.com/
Radio Adventures of Doctor Floyd http://doctorfloyd.com
Librivox Free Audio Books http://librivox.org
For the Sake of the Song https://ductapeguy.net
Russ TV http://russmusic.net
How to Listen or Watch
On a computer
Loaded on to an Mp3 player, Ipod, phone, psp
Use Itunes, Juice, Winamp or other programs to download podcasts
Where to Find Podcasts
Canadian Podcast Directory http://canadapodcasts.ca
Culture Canada Podcasts http://podcasts.culture.ca
Podcast Alley http://podcastalley.com
Podcast Pickle http://podcastpickle.com
My Dreams
When I was 11 I had 2 dreams
To make my own record.
To have my own radio show.
I make them both in my own home with my computer.
… and you can too!
What you need
Making an Audio Podcast
A microphone: $1 from the dollar store, $10 from the computer store to lots of $$$
A computer
Free Software
Audacity is a good audio editing program and it's Free!
http://audacity.sourceforge.net.
A place to put it.
http://archive.org
Making a Video Podcast
A digital camera. They all take movies these days.
A computer
Free Software
Windows Movie Maker is free on all windows computers.
A place to put it.
http://youtube.com
Now Let's Try it Out
Let's break into groups and make an audio commercial for the Penetang Public Library.
Library Podcasting Presentation Slides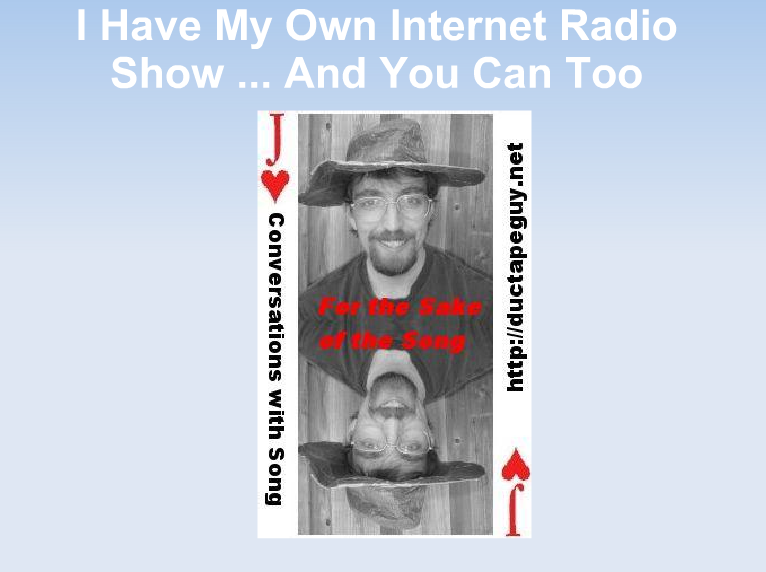 Filed Under (
Barrie
,
for the sake of the song
,
Midland
,
music
,
news
,
Ontario
,
PAB2007
,
podcamp
,
podcamptoronto
,
podcamptoronto2007
,
podcast
,
Simcoe County
) by Sean on December-31-2007
Episode 37: 2007 in Review
[ 1:04:22 ]
Play Now
| |
Download
(4240)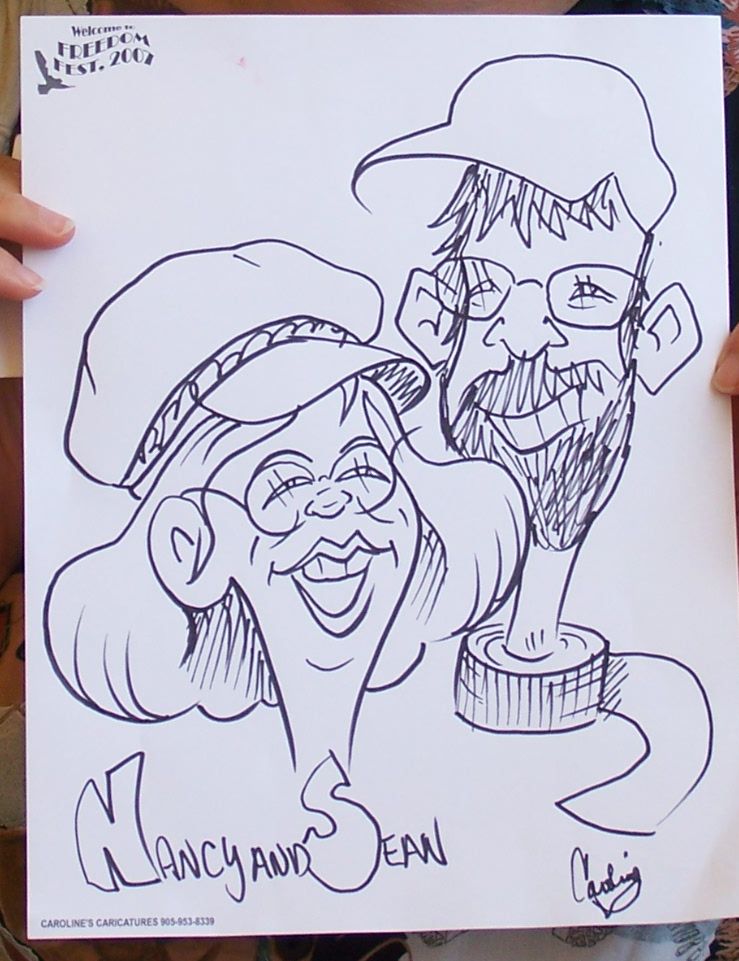 This Week, I thought I would do an End of year Round-up of For the Sake of the Song and replay some of the great music I've featured this year. It was tricky picking just 12 or 13 songs. Since March, I have recorded 45+ episodes of For the Sake of the Song. If each song had 3 or 4 songs, thats over 120 songs to choose from. This is episode 37, so you can see from above that I already have a number of shows ready for 2008. Upcoming guests include John Lunman, Peter Judd , The Undesirables, Trout Fishing in America, Mark Blevis, Manitoba Hal, Pork Belly Futures and Chris Yale.
I have also continued to be a regular contributor to the Librivox Community Podcast and have started a podcast for Podcamp Toronto. In 2007, I produced about 60 podcast episodes, and I'm not sure how many chapters and poems for Librivox.
Where I've Been
Upcoming in 2008
Songs in this Episode
Theme Music: For the Sake of the Song (©2003 S. McGaughey) Alyssa Wright accompanied me on the spur of the moment and made me sound sooo good. Thanks.
Daffodils in the Rain ( © Olivia Duck)
I am an Island (© Aaron Howes)
Duct Tape Song (©1999 S. McGaughey) with Wendell Ferguson on lead guitar
Gonna Struggle (© Bryan Murdaugh)
Sunshine and Roses ( © Greg Hobbs)
Goodbye City ( © Scott Cooper )

Don't Kill

(© Hammel on Trial)
Mama Taught Me How To Pray © Nancy Dutra
Harvest Time ( © paul court and Don Bray)
Two Bit Suit © John Wort Hannam
When Hensley's Had Enough ( © Steve Caston)
Angels (© 2007 Sean McGaughey).
Add this podcast to your favorite podcatcher at
http://feeds.feedburner.com/For_The_Sake_Of_The_Song
The Edmonton Journal ran a weekly comic in the Mid 1980's called Bub Slug. It's authors eventually spun it off into a successful syndicated cartoon called Betty. In one memorable episode (at least I still remember it 20 years later), Bub and Betty came into some money and joined the Edmonton Cultural Society. The women of the cultural society were raising money to traslate Cats and 42nd Street into Italian, so as to make them cultural.
Today, Culture Canada launched podcasts.culture.ca to showcase Canadian culture in podcast form. My friends Hugh McGuire and Chris Goringe from Librivox were active behind the scenes setting this up. I'm not sure that it differs substantially in content from the amazing Canadian Podcast Directory at canadapodcasts.ca, but it is really neat to see my podcast and my picture featured on an official Government of Canada website.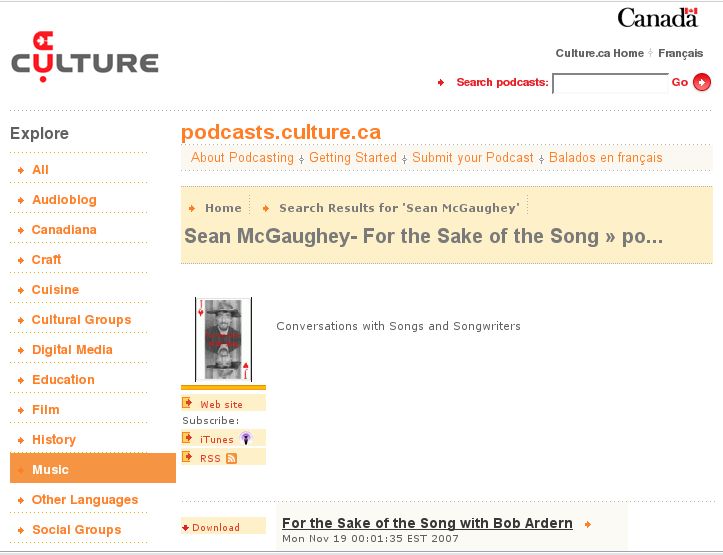 That seals it. For the Sake of the Song is officially a Canadian Cultural Experience. Sort of like Tim Hortons and Beaver Tails I guess.
Edit: The folks at the Canadian Cultural Podcast Directory sent me a nifty badge to add to my site. WooHoo double affirmations that I am cultural.
My summer of podcasting is now officially over. Unless the mood strikes me to record a special episode, I will be releasing shows this fall on a 10 day cycle on the 10th, 20th and 3oth of the month. I have 9 shows recorded and scheduled up to December 10, and I have 4 shows recorded and ready to edit.
I noticed on my friend Jennifer's website that people are still finding it hard to navigate my Past Podcasts Page. I hope that this handy table makes it easier for all of my new listeners to find and catch up on my past episodes.
PAST EPISODES
You can find links to all past episodes below. Click on the episode number for shownotes, the guest's name for their website, the blue triangle to listen on this page, or download to download the episode.
UPCOMING GUESTS
The following guests will be appearing on upcoming episodes of For the Sake of the Song, in no particular order. Feel free to email me at ductapeguy@hotmail.com for suggestions of guests I should interview in the future.
As always, this list is subject to change based on my whims and the quirks of wordpress sending them out early.
November 20 Bob Ardern
November 30 Bob Snider
December 10 Â Â  Bri-Anne Swan
December 20 Bryan Murdaugh
January 10 Peter Judd
January 20 John Lunman
Trout Fishing in America???
I've been busy this summer recording and editing episodes of For the Sake of the Song. Since Victoria Day Weekend, the family and I have been to four excellent festivals, Twisted Pines Music and Art Festival here in Midland, the Minesing Unplugged Festival in Utopia, Ontario, the Mariposa Folk Festival in Orillia, and the Canturbury Folk Festival in Ingersoll. We hope to get to a couple others later this summer.
This year at Mariposa I was both volunteer and performer. I helped organize the Open Stage and was part of two workshops on the Folkplay stage entitled: My Favorite Children's Song. On Saturday the sound system was giving us all kinds of trouble, so we walked in front of the stage and performed an acoustic workshop. On Sunday, the sound system was cooperating and we had one of those magical workshops where four individual performers walked on to the stage, but a band walked off. I had the pleasure of sharing the stage with Steve Caston, David Zub, and my friend, Patti Ellis. Musical magic was in the air. We were all playing and providing harmonies on each other's songs and I think it was as much fun for the musicians as it was for the audience. They also gave us a lovely orange Mariposa Folkplay Performers T-shirt.
My other Mariposa T-shirt says CREW, and I got it for working the Open Stage. My good friend, Jennifer Ives was coordinating this stage and worked along with Ken and Arlene Allen and Olivia Duck. We had a great time and some of the music on the Open Stage rivaled that of the Official performances. Standout performances for me on the open stage included: Olivia Duck, Steve Caston, Pat Clark, The Good Tangerines, and Tom Kremer and Friends.
I also noticed a sadder side of the Open Stage. It was set up in 20 minute sets from 11- 4:30 on both Saturday and Sunday. In order to perform, you just needed to come to the Open Stage and sign up after 10 am on either day. We filled all the slots by 12:30 on each day. Once we were full there was a steady stream of disappointed people coming up to us to ask if there was any more room. Most people were quite polite, but for some there was an undercurrent of desparation and entitlement, that they must play at the open stage. Several people tried sweet talk or pleading, one tried to bribe us (didn't work), and one young man asked who he should kill to take their spot. I told him that last time somebody tried that the corpse played anyway. There was also an unpleasant incident with someone who was determined to subvert the Open Stage into his own personal showcase stage (don't ask). I've got to a stage as a performer that although I still feel the urge to share my music, if an open stage is full I can sometimes pass on performing for the night. It was a little sad to see the desparation of people to say "I performed at Mariposa". Perhaps I see things this way because I have had the good fortune to be asked to play at this fine festival about 4 times since it returned to Orillia. But even when we are at other festivals as audience, I no longer feel compelled to sign up for the Open Stages. If the opportunity arises and I'm not listening to one of the other stages, I'm still happy to perform, but I don't feel the compulsion to "be on the stage" that I witnessed at Mariposa.
The following weekend at the Canturbury Folk Festival in Ingersoll was magical. The whole town of Ingersoll pulls together to put on three days of FREE music and crafts in a beautiful downtown park next to a creek. The site is small enough that our daughter spent the whole weekend on the playground within eysight, while we sat and listened to the show. They had a great lineup of performers from all over Canada and the UK, but with a strong contingent of local performers. Congratulations to Ted Comiskey Artistic Director, and everybody who made the Canturbury Folk Festival such a magical weekend. We will definitely put it on our calendar for next year. I particularly enjoyed the mainstage sets by Tanglefoot, Wendell Ferguson, Ian Thomas, and Laura Vinson. In fact I have a Laura Vinson story to tell you.
As an 11 year old living in Ryley, Alberta, I would look out my window across the prairies, while listening to my Radio Shack Crystal Radio which I built from a kit, and dream of one day having a record or maybe my own radio show.
My parents bought me two presents for my 12th birthday: A Hohner classical guitar (which I still use in my Grade 2 classroom), and tickets to see Laura Vinson and Red Wing at the Holden Theatre (this would be about 1979). I was very excited by her performance, and after the show my mother and I spoke briefly with her. She was very encouraging, and I couldn't wait to get home to practice my guitar. Alas, I tried to teach myself over the years and was not successful.
Then the guitar made the rounds through my brother, my mother and my sister, before returning to me around the time of my 25th birthday. My present to myself that year was guitar lessons. Over the years I have performed as a folk musician and children's performer, first with covers and eventually writing enough original material to record a CD in my basement in 2003. About 1-1/2 years ago I started recording public-domain audio books for librivox.org, which led to producing my current podcasts (on demand Internet audio shows). I am just amazed that now at 39, I have both the record and the radio show, and I recorded them in my own basement! I was thrilled this weekend to sit down with Laura Vinson to record an upcoming episode of For the Sake of the Song.
Be sure to listen throughout August for Twisted August. These will be shows that I recorded at the Twisted Pines Music and Art Festival in Midland on the Victoria Day Weekend.
Release Date:
August 2: A double-header show with interviews with Paul Northcott and Deb Brown of the Twisted Pines Music and Art Festival l, and Nancy Dutra, a fine singer-songwriter from Toronto.
August 9: 6 time CCMA Guitar Player of the Year, jokester and all-round nice guy Wendell Ferguson
August 16: Political punk-folk provocateur Hamell on Trial
August 23: Magoo: Perennial favorite festival host, children's entertainer and songwriter.
Other Upcoming Shows
July 25: Greg Hobbs
August 30: Luther Wright
September 6: Dan Frechette
Interviews recorded but not yet scheduled: Laura Vinson, Corin Raymond, Mark Blevis, Bob Ardern, David Bradstreet, The Good Tangerines, Peter Judd, Olivia Duck.
This should bring me into November. I'm trying to have shows scheduled up to Christmas by the time school starts in September.
I hope your enjoying the show so far. Feel free to send in requests for potential guests.
Episode 15- Canada Day Special with Jowi Taylor and the Six String Nation Guitar
[ 26:19 ]
Play Now
| |
Download
(4801)
Today is Canada's 140th birthday. (Oh-Oh that means in November I'll be 40). Anyhow, on May 18 I got a chance to play the Six String Nation Guitar and I interviewed Jowi Taylor about the project, at the Twisted Pines Music Festival. This morning as my family was getting ready to go out to Midland's Canada Day celebrations, I got a brainwave that the Six String Nation Guitar could be the subject of the patriotic Canadian song I've long wanted to write. So, here is Six String Nation my contribution to Canadian patriotism, written on July 1.
Six String Nation

July 1, 2007 © Sean McGaughey

C Am F G

Jowi dreamed of a way to tell our stories

C Am F G

from the humblest moments to a nation's greatest glories

F F C C/B AM

From sea to sea to sea he crossed our land

F G C G7

Searching for fragments of our past.

George recalls arriving on our shores a refugee

dreaming of a future filled with opportunity,

Fifty years along he took the wood from near and far

Fashioning our nation's guitar.

F G C C7

We are citizens of the six-string nation

F G C C7

Its song unites us across the generations

F F G

From the scoundrels to the saints

C C/B Am

we all belong

F G G7

Oh Canada, this is our song

G C

Oh Canada.

From the dance floor at Handhills Lake, to the seats of Massey Hall

St Boniface Museum, the Forum in Montreal

The Parliament Building, the lighthouse at Cape Grace

It's part of your heritage. This is Canada.

Henderson, Macdondald, Lucy Maud Montgomery

John Ware, Nancy Green, Trudeau, Wayne Gretzky

Lawren Harris, Joe Lebobe, Jack London, and the Rocket
This special Canada Day episode of For the Sake of the Song consists of me playing the Six String Nation Guitar, my interview with Jowi Taylor, and the debut recording of my new song Six String Nation. Happy Canada Day. (Whew it's 11:22 pm- I just got this out under the wire).
Songs:
Theme Music: For the Sake of the Song (©2003 S. McGaughey)
The Duct Tape Song (©1999 S. McGaughey)
Six String Nation (©2007 S. McGaughey)

This morning I noticed on Facebook that Derek Miller's birthday is coming up.  Derek has had a rough week with bad news on the health front.  Bill Deys and I were chatting about what we could do for Derek's birthday.  I'll let him take over from his post. 
Over IM this morning with Sean McGaughey he pointed out the recently Derek Miller of The Penmachine Podcast has a birthday fast approching! He has also received some news that isn't so Happy. You can read about it on his blog, he has been amazingly open and honest, but I feel this is not the time or place to get into that in great detail. Anyways in light of all that we want to put togeher a bunch of Happy Birthday and Well Wishes for Derek. We need two things, first is some audio. Say whatever you want, from as simple as "Happy Birthday" or more personal if you choose. Mark Blevis has steped up to take on the task of editing it all together, so send your audio to markblevis@gmail.com. We would like to keep it short so try and keep comments to 5-10 seconds each. The other thing we need is to get the word out. Twitter it, Blog it, whatever you can do to help. We would like it to be a surprise but it's not the end of the world if it gets out and we get more response! Check back to this post for update on how it's going or if there is any new information!

Pop it on Clipmarks and Digg it on Digg

There is now a K7 Voicemail number  206-666-4788!