Archive for the 'blog' Category
This summer I opted out of the fifty songs in 90 days 50/90 challenge to focus on practicing the heck out of my instruments using yousician.com, and to start pre-production on my long time coming, and still a long time to come next album, with my friend Nick Howell, who is just about to release a brilliant debut album.
While my own album remains mired in procrastinati… — I mean pre-production, I keep showing up on other people's projects. My FAWM 2015 co-write with Daniel Jun Kim, Search For Spock, is on his Pop Mythology and Friends album.
Earlier this year, I had a co-write with Stephen Wordsmith on his delightfully eclectic album, Tinnitus.
It has been a summer filled with music. Â Earlier this summer, my family went to an annual favorite, The Canturbury Folk Festival in Ingersoll. Â Later my mind was blown by a screening of the Frank Zappa documentary, Eat that Question at the TIFF theater.
We have just returned from a 2 week east coast vacation. Â Amongst the great scenery, the seafood, and the good times, we took in some amazing music. Â Highlights included the Lunenberg Kitchen Party, where I played a couple tunes and Old Home Week in Charlottetown which featured a nightly showcase of PEI musicians organized by the amazing Eddy Quinn.
A personal musical highlight came half unexpectedly at the Hank Snow museum, in the old train station in Liverpool NS.  As expected, the museum houses a retrospective of the life and career of Hank Snow, but also is home to the Nova Scotia Country Music Hall of Fame.  I recorded 2 versions of Hank Snow's Fool Such as I in liverpool, one in front of the hank snow museum, but the wind noise is overpowering.  The other, on the shore turned out much better.
We capped the holiday off in Kingston with 25000 people for the telecast of the last Tragically Hip concert.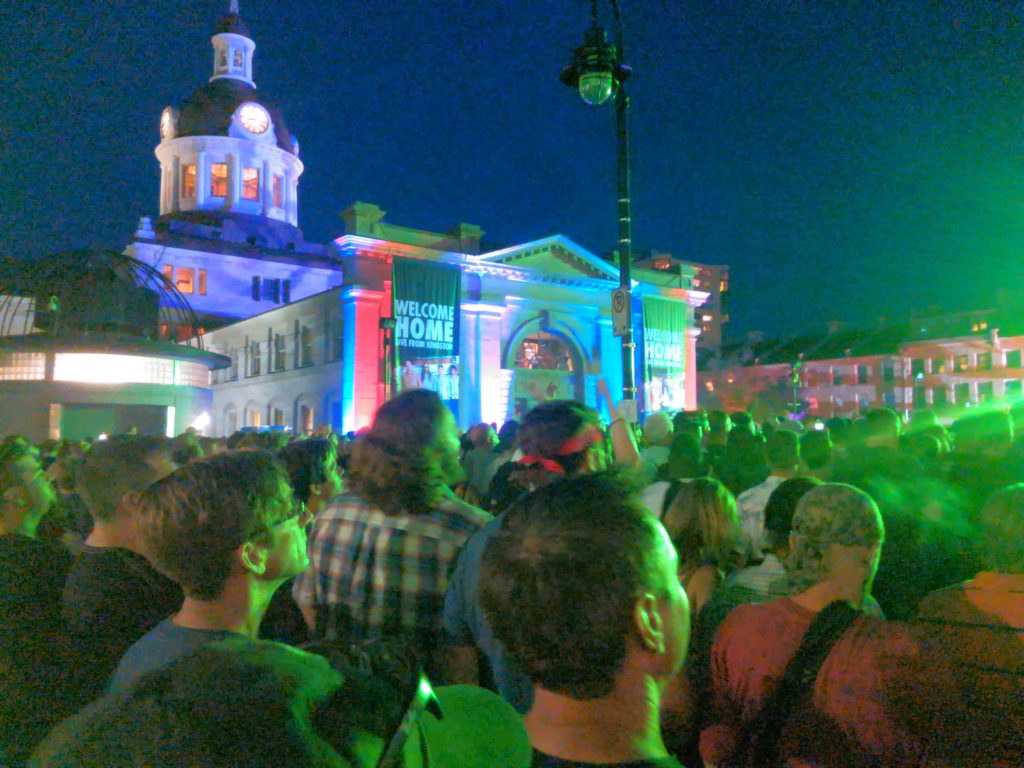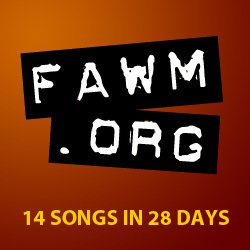 Tomorrow, I embark on my fourth February Album Writing Month. I cannot rave enough about how the participating in FAWM has energized my creative life and supercharged my songwriting output.
Here are my 2016 FAWM Resolutions.
Go Wherever the muse takes me.
If necessary, continue forward even if I can't discern the muse.
Write a bunch of poppy songs on ukulele.
Live one-off acoustic demos are my comfort zone. I resolve to produce at least 3-5 multitrack demos.
I am wide open to collaboration both online and face to face. Let's make music together.
This year I will try to release a 5 song (or more) EP of my FAWM2016 songs on Bandcamp by the end of March.
As the month progresses, you can follow my progress on the FAWM site. I'm known as ductapeguy over there.
Here is a handy jukebox of my FAWM 2016 songs.

Update: March 15: I had a great FAWM this year and achieved all my FAWM goals except for polishing up some songs for a Bancamp release. Stay tuned…
One of my highlights was the 8 collaborations. I find that working with another songwriter teaches me soo much.
I've known my dear friend, mentor and tormentor, paul court for over 20 years. He is the chief instigator for our local songwriting collective that is now in its 14th year. About five years ago, upon hearing there was such a thing as February Album writing Month, he wrote an album called Still Dusty— a song for song response to Fred Eaglesmith's album Dusty. The following year I joined FAWM and I've been here since.
This year I'm trying to focus on face to face, in the same room, collaborations whenever possible. Paul has been focusing more on visual arts than music the past couple of years, so I was thrilled when he consented to write with me. Every collaboration is different and on this one Paul was the conceiver and did most of the heavy lifting. I was a contributor. What a privilege to be invited into the "inner writing place" of another musician.
Update: Paul Recorded a demo of the song at our monthly meeting of the Barrie and District Association for Singer Songwriters (BADAS/S). Here it is.

Every year I make a word cloud of all my FAWM lyrics. This year I tried a new wordcloud generator:wordclouds.com . It turned out fabulous.
All My 2016 FAWM Lyrics and Comments are below
This afternoon we went to Promenade Days in Barrie. One of the vendors on Dunlop was none other than Big John of the decades closed Big Johns Records. When I moved to Barrie in the late 80s, my sisters introduced me to Big John and his record store. His store was around the corner from Sam the Record Man at the 5 points. His tastes were eclectic in the extreme and he had only one rule– "Is it Good?" If you could find the kind of top 40 pablum they sold at Sam's around the corner, it was likely kept inside a (thankfully dry) toilet at the back of the store with a hand lettered sign reading "Pop Shit" or in a basket on the counter under a flystrip with a sign that said "Top 40 tapes– Free if you take a fly."
Big John introduced my sisters to Sonic Youth, Henry Rollins and Sioxie and the Banshees before they broke into the mainstream. He turned me on to Little Feat, Dave Brubek and the Greatful Dead.
Today he sold us 3 CDs. My daughter got a Johnny Cash compilation that got the Big John seal of approval. She also a Miley Cyrus CD which I remarked should have been free with a dead fly . Mine was a special Big John Recommendation.
There are more than a few musicians and bands that have profoundly influenced my musical tastes and my songwriting BUT I have never actually owned one of their albums. I have become intimately familiar with their music through the covers of my friends, on the radio and TV, or just through pop culture overexposure.
Today I bought one such album from Big John. It is from a long disbanded group who produced about a dozen albums in the sixties. Their music has shaped my consciousness for my whole life, but I have never owned one of their albums till today. I had considered getting a greatest hits compilation, but I think as a musician I really needed to hear these songs afresh in the original order as an album. I narrowed it down to two CDs. The one I chose was a recording entitled: "Rubber Soul".
We listened to it in the car on the way home. My mind has been melted.
As I said, I am intimately familiar almost all of the 14 songs on the album but to hear it as a whole. So many impressions– Wow That Bass Player is astounding… And that drummer. Some of those rhythm guitar parts are stripped down in the extreme– just a downstroke on 2 and 4– jangly and slightly out of tune. The mix is wonderfully organic and inconsistent. Sometimes the guitars are a little too loud, sometimes drowned out by the drums and bass. The harmonies are sublime and not one of them autotuned. The songs demonstrate a hodgepodge of influences from rockabilly, to Rand B, to bluegrass, to British dance hall, to Indian Ragas. The style, mood and lead singer changes with almost every song. There is a moment in Girl during a 2 beat pause in the music where John takes a noisy audible breath. For all of the above reasons, this album shouldn't work– but it is a masterpiece. It is perfect even in its imperfections.
Yesterday I got an itunes gift card as a gift. I believe I will use it to buy another record from this band called Revolver. Has anyone else heard of it? Is there anything else by these guys that I should have?
Filed Under (
blog
) by Sean on September-2-2013
Doctor Who Made Fun of Me
[ 3:15 ]
Play Now
| |
Download
(537)
My daughter asked me to take her to FanExpo in Toronto. Although I am a life long science fiction fan, it was my first con and her first as well. Our family has spent the summer watching the post 2005 series of Doctor Who. It was no surprise when my daughter told me that we were going to go to the Con dressed as the Doctor and Clara. In the weeks prior to the con, we found out that the Doctor Who Society of Canada was attempting to break the Guiness world record by gathering a record number of fans in Dalek costumes. For three weeks, we searched second hand stores for the perfect red dress, then I found an amazing Shiny gold trenchcoat out of which we made costumes for Dalek Dad and Clara Oswin Dalek for the World record attempt. In my other summer adventure, with my brain immersed in Dr. Who, I wrote a post for the Official CNE blog called A Timelord's Guide to the CNE.
When we got to the Convention Centre, we were overwhelmed by the sheer magnitude of the event, but we quickly raced through the buildings to find our way to the Guinness Record attempt. Colin Baker, the sixth Doctor was guest judge and MC for the record attempt. I had warned my daughter that although our costumes were awesome, they were not nearly as elaborate as cosplay costumes can get. I cautioned her that some snobbish geeks may find flaws in our costumes. I was not expecting Colin Baker, the Doctor himself to comment (in good sport) that I looked more like a guy in a raincoat than a Dalek (I did). It makes for a great story so I wrote a song about it called Dr. Who Made Fun of Me.
The rest of our day at FanExpo was a whirlwind. We met up with my sister, brother-in-law and nephews for a couple hours of family time exploring, then Sarah and I spent the afternoon browsing the show floor. After Fanexpo closed for the day, we went to the Doctor Who Society after party where we met a bunch of wonderful Dr. Who Fans and Sarah won a contest for the cosplayer who could stay in character then longest quoting only lines that their character spoke on the show.
My inner 13 year old has been overjoyed all summer with my adventures at FanExpo, FAWMSTOCK and the CNE. But the 45 year old husband and father that I am treasures the time I have had to spend with my family and especially my daughter through all these events. My daughter was thrilled that in one day she went to her first FanExpo, her first flashmob, and her first Guiness Record.
I live tweeted our day at the FanExpo, and posted tons of pictures on Google+ . They are right after the break. Read the rest of this entry »
week from now, my basement will be full of friends and family waiting for me to share Forevuary, my new collection of songs and stories.
This fall and winter I undertook two very creative projects.
In the fall, I cleaned and renovated our basement, creating a lovely warm new rec-room for our family's enjoyment. (all except the baseboards, which I have put on the 5 year plan) .
This February, on a bit of a lark, I decided to try February Album Writing Month where participants are challenged to write 14 songs in 28 days. To my complete amazement, by the end of February I had written a collection of 20 songs, which I have entitled Forevuary. The themes in my songwriting never stray too far away from childhood, family, faith and living in a small town. You can hear demos of all the songs here on my website .
To celebrate the completion of both of these projects, please join us for a pot luck and house concert in our new rec room where I will perform Forevuary for an audience of my family and friends, and share the stories behind the songs.
House Concert Featuring Sean McGaughey performing Forevuary
Date: Sunday May 5, 2013
Concert to start 2:30 pm
Pot Luck Dinner and jam to follow.
Sean and Nancy McGaughey's Home in Midland Ontario
This weekend is also Nancy's Birthday so we will have lots to celebrate.
Please RSVP for directions and so that we know who to expect.
Thanks,
Sean McGaughey
You can RSVP on the Facebook Event page or in the comments below, or just drop me an email.

4tsots with Maria Dunn
[ 29:10 ]
Play Now
| |
Download
(12334)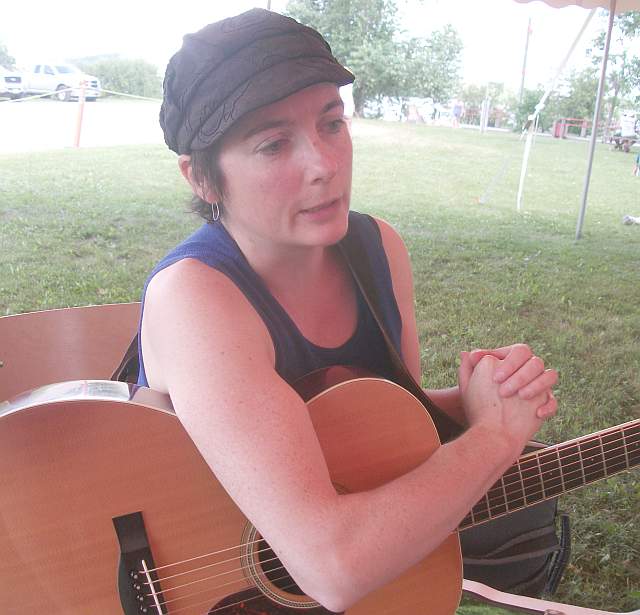 I've known Maria Dunn for over a decade.  I first saw her perform in her home town of  Edmonton and subsequently hosted a couple of house concerts with her over the years.  She is a folksinger in the traditional sense.  For Maria, social activism and songwriting go hand in hand.  It was a pleasure to interview her at the Live from the Rock Folk Festival in Red Rock on the shores of Lake Superior.
Music:
For the Sake of the Song (©2003 S. McGaughey)
You Can't Take that Away  (© Maria Dunn)
Take it Easy on Me  (© Maria Dunn)
You can leave comments on the blog, send me an email to ductapeguy at hotmail dot com or join the For The Sake of the Song Podcast group on Facebook.
Add this podcast to your favorite podcatcher at 
http://feeds.feedburner.com/For_The_Sake_Of_The_Song

As usual, all songs and musical performances are copyright by the performer-songwriter.