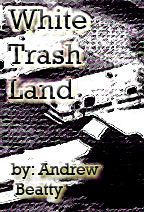 For a surprise Christmas gift, I recorded the novel White Trash Land by my brother-in-law, Andrew Beatty. Andrew wrote the book a couple years ago and you can read the whole thing on his blog.
The recording of White Trash Land will soon be available as a podcast novel on podiobooks.com. .
Think of it as an old-fashioned radio serial with the internet. Stay tuned for announcements of how to listen to the podcast novel chapter by chapter.
Listen below for the official
White Trash Land trailer #1
and
White Trash Land trailer #2
Feel free to download these trailers for use on your podcast.