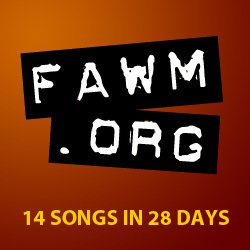 Tomorrow, I embark on my fourth February Album Writing Month. I cannot rave enough about how the participating in FAWM has energized my creative life and supercharged my songwriting output.
Here are my 2016 FAWM Resolutions.
Go Wherever the muse takes me.
If necessary, continue forward even if I can't discern the muse.
Write a bunch of poppy songs on ukulele.
Live one-off acoustic demos are my comfort zone. I resolve to produce at least 3-5 multitrack demos.
I am wide open to collaboration both online and face to face. Let's make music together.
This year I will try to release a 5 song (or more) EP of my FAWM2016 songs on Bandcamp by the end of March.
As the month progresses, you can follow my progress on the FAWM site. I'm known as ductapeguy over there.
Here is a handy jukebox of my FAWM 2016 songs.

Update: March 15: I had a great FAWM this year and achieved all my FAWM goals except for polishing up some songs for a Bancamp release. Stay tuned…
One of my highlights was the 8 collaborations. I find that working with another songwriter teaches me soo much.
I've known my dear friend, mentor and tormentor, paul court for over 20 years. He is the chief instigator for our local songwriting collective that is now in its 14th year. About five years ago, upon hearing there was such a thing as February Album writing Month, he wrote an album called Still Dusty— a song for song response to Fred Eaglesmith's album Dusty. The following year I joined FAWM and I've been here since.
This year I'm trying to focus on face to face, in the same room, collaborations whenever possible. Paul has been focusing more on visual arts than music the past couple of years, so I was thrilled when he consented to write with me. Every collaboration is different and on this one Paul was the conceiver and did most of the heavy lifting. I was a contributor. What a privilege to be invited into the "inner writing place" of another musician.
Update: Paul Recorded a demo of the song at our monthly meeting of the Barrie and District Association for Singer Songwriters (BADAS/S). Here it is.

Every year I make a word cloud of all my FAWM lyrics. This year I tried a new wordcloud generator:wordclouds.com . It turned out fabulous.
All My 2016 FAWM Lyrics and Comments are below