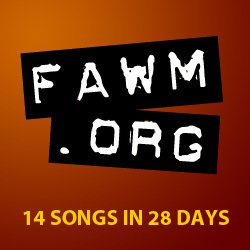 I have just completed my third February Album Writing Month with 19 new songs.  What follows, is a record of my 14 new songs, alternate demos, comments from the FAWM site, and a bit of accompanying artwork I produced along the way.
This year I felt like a honky-tonk was following me around. I wrote several country hurting songs, as well as my usual February fare of folk songs, silly filk songs and winter tunes.
This year, I also focused on online collaborations.  There are several FAWMers who post lyrics exclusively and welcome collaboration with musicians.  This year Arthur Rossi in Austria wrote over 195 lyrics.  I set two of them to music, I am Dracula and Z28.  I also got the opportunity to co-write with some of my FAWM friends Jane Eggers, Joel Canfield, Canadian Folksinger Kim Beggs, and FAWM newcomer POPMythology.
The process for each of the collaborations was different for each of them. Â Arthur posts lyrics and then welcomes people to adapt them as they see fit. Â One of them I set to music verbatim, the other I tinkered with lyrically. Â Joel and I have wanted to collaborate for some time. Â This time he sent me a set of lyrics, which I set to music unchanged. Â Jane and I bounced ideas back and forth for about a week and collaborated on the lyrics and story of the song which I set to music. Â Kim Beggs asked me for a set of lyrics, which she reworked into a hauntingly beautiful song. Â And pm February 28, Pop Mythology posted a great set of lyrics in honor of the passing of Leonard Nimoy which I could not pass up. Â I also had a collaboration which did not see the light of day because the lyricist did not like the direction I took the music, so I wrote new lyrics for the music I had set for it.
I experimented a fair bit with drum loops, but none ended up in my FAWM songs. Â I did stretch myself a bit recording a few multitrack songs where I played guitar, bass, and shakers.
All in all it was a great FAWM. Â I learned tons and got a good crop of new songs.
Here is a word cloud of all my FAWM 2015 lyrics.
And a handy jukebox of my FAWM 2015 songs.