For the Sake of the Song FAWM 2013 Wrap Up
[ 39:52 ]
Play Now
| |
Download
(11520)
I finished February Album Writing Month with 20 new songs. You can find them here on my site or I'm @ductapeguy at the FAWM website.
I was not alone. Â 410 of 2267 registered writers completed 14 or more songs with 1 person writing 125 new songs. All in all, over 9000 songs were written as part of FAWM. Â As we approached the finish line, I invited other FAWMERS to send me audio reflections about their own experiences. Â Here they are.
Shownotes:
1) Spoken word intro
2) Billy Day by Sean McGaughey @ductapeguy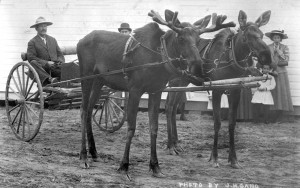 Source:Â http://www.archivesalberta.org/2007exhibit/paa1.htm
My great-grandfather, Joe Horrocks, hauled freight with a horse team and wagon around 1915-1925 in Northern Alberta. There is a story passed down through the generations that he once met a man who had a trained team of moose.
I did some googling and found a brief article and picture at the Alberta Archives about Billy Day and his moose-drawn carriage. Â  Â I wrote the story of how I imagined he came to have a team of moose.
3) Audio reflection by @complexissimple
4) Galaxy Mike by @complexissimple
5)  Hope for the Future @francesriley
6) Audio reflection by @thesahisi
8) Audio reflection by @marvsmooth
9)  A Woman I Can Trust  by @marvsmooth
10)  Kick the Can by @brownium
11) Audio Reflection by @ductapeguy
12) Underneath by Sean McGaughey aka @ductapeguy
Songs in this episode (All of these are unreleased demos posted on the fawm.org site. Â All songs and recordings are copyright their respective authors).
Theme Music: For the Sake of the Song (c) Sean McGaughey
You can leave comments on the blog, send me an email to ductapeguy at hotmail dot com or join the For The Sake of the Song Podcast group on Facebook.
Add this podcast to your favorite podcatcher at 
http://feeds.feedburner.com/For_The_Sake_Of_The_Song

As usual, all songs and musical performances are copyright by the performer-songwriter.