For the Sake of the Song FAWM 2013 special Feb 10
[ 30:34 ]
Play Now
| |
Download
(11678)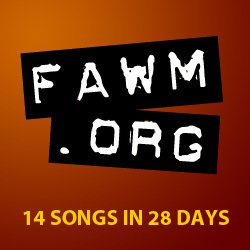 Tom Slatter is a London, UK based songwriter and podcaster. He produces the Songwright blog.  He was a guest on the  For the Sake of the Song in 2008.  On January 31, he posted that he was participating in February Album Writing Month, taking on the challenge to write 14 songs in  the 28  days of February.  I decided to take the plunge, keeping in mind that at my most prolific, I wrote 14 songs in 9 months, and last year I wrote 6 songs.   Fast forward 10 days and I have written 8 songs and begun to get to know a ton of great songwriters on the Fawm.org website.
Today, I'm going to talk songwriting, FAWM and play a few tracks by FAWM songwriters.
Songs
1) Â Into Town by Joel D Canfield.
2) In Kingston by Sean McGaughey
3) I Don't Rock by @woody 
4) I Bust a Zong:  Labirinto di Morte by @williedesacra
5) Switch Off by @balancelost  www.balancelost.co.uk
6) Theme Song: Â For the Sake of the Song by Sean McGaughey
Send me your favorite songwriting resources or other feedback by leaving comments on the blog, or send me an email to ductapeguy at gmail dot com.
Add this podcast to your favorite podcatcher at 
http://feeds.feedburner.com/For_The_Sake_Of_The_Song