For the Sake of the Song with Steve Seskin
[ 28:21 ]
Play Now
| |
Download
(12931)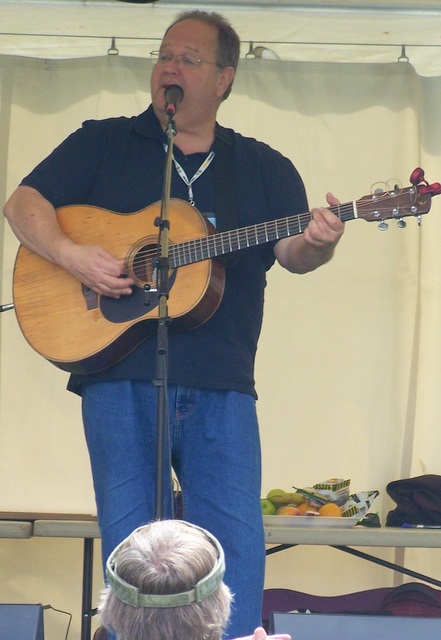 It was a great surprise to see Steve Seskin on the bill at the Canmore Folk Festival.  Steve Seskin is the kind of songwriter who has all the other songwriters running across the grounds to see him perform at a festival.  During a career lasting 40 years, he has become known as a folk songwriter who has penned some of the most popular country songs of the last 2 decades.  His songs such as Life's a Dance, and I Think About You  have been recorded by Tim McGraw, Mark Wills, John Michael Montegomery, Collin Raye and many others.  With 7 number one hits and many charted recordings by other artists, he describes himself as a songwriter-singer, but he is truly a seasoned performer in his own right.   Perhaps his best known song among parents and educators is Don't Laugh at Me, which has become an international anthem against bullying.  Over the past several years, Steve has also become quite involved with performing at school assemblies and writing songs with children.  You can find out more about his work with youth on his website.
Steve was very generous to sit down with me for a wide ranging discussion about songwriting during a whirlwind day prior to his feature performance at the festival just before flying home.
Thanks again Steve.
Songs in this episode:
For the Sake of the Song (©2003 S. McGaughey)
Don't Laugh At Me © Steve Seskin and Allen Shamblin
New Orleans  © Steve Seskin, Bob Dipiero and Mark D. Sanders
Links: Â  steveseskin.com
Don't Laugh at Me lesson plans and bullying awareness at Operation Respect.
You can leave comments on the blog, send me an email to ductapeguy at hotmail dot com or join the For The Sake of the Song Podcast group on Facebook.
Add this podcast to your favorite podcatcher at 
http://feeds.feedburner.com/For_The_Sake_Of_The_Song

As usual, all songs and musical performances are copyright by the performer-songwriter.