For the Sake of the Song with Knock Knock Ginger
[ 32:21 ]
Play Now
| |
Download
(16153)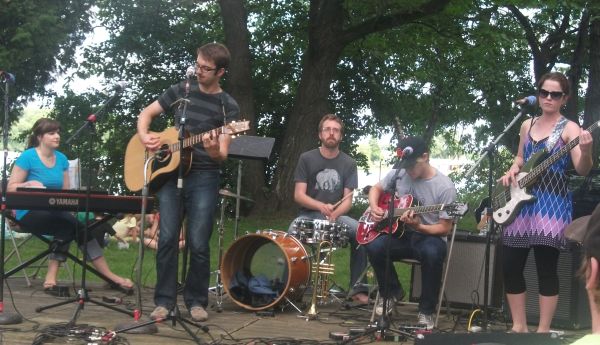 The Arts for Peace Festival has been an annual event in Orillia for 26 years.  For some reason I cannot explain, this year was the first time we had attended.  It is a beautiful, intimate music and arts festival on the grounds of the Stephen Leacock Museum in Orillia.  While there, we met and heard a number of  long-time musical friends.
About mid-afternoon a five piece band, Knock Knock Ginger, began to perform a set of smart, funny acoustic based pop music.  I was blown away.
Here's a brief bio from their website.
Knock Knock Ginger is an indie-pop band from Waterloo, Ontario. Knock Knock Ginger has a guitarist who sings (Milosz Sikora), a keyboardist (Melissa Djurakov), a drummer (Owen Cherry), a bassist (Lisa Rafferty) and a guitarist who plays trumpet (Matt Charters).

The band's sound has been described as "experimental," but they can't quite figure out why. They'd like you to think that they play fun, melodic pop songs with a lyrical slant.

Knock Knock Ginger has been together in various shapes and sizes since the fall of 2004. They recorded their latest EP, Based on a True Story, at the House of Miracles in London and saw it rise to the top ten on campus radio and the CBC radio3 R-30. They've played a lot of shows in a lot of different cities from Ontario to the East Coast.
After their set, I had a chance to sit down with Milosz, Melissa, Lisa and Matt to talk music and songwriting with them.
Links:
Knock Knock Ginger Website
Knock Knock Ginger on Myspace
Knock Knock Ginger on twitter: http://twitter.com/kkgband
Knock Knock Ginger on Youtube
Songs:
Theme Music: For the Sake of the Song (©2003 S. McGaughey)
It's Your Money Honey (© Milosz Sikora)
Happy Dream When I'm with You (© Milosz Sikora)
You`ve Got a Way (© Milosz Sikora)
You can leave comments on the blog, send me an email to ductapeguy at hotmail dot com, send me a voice feedback at 206-337-0611, or join the For The Sake of the Song Podcast group on Facebook.
Add this podcast to your favorite podcatcher at
http://feeds.feedburner.com/For_The_Sake_Of_The_Song