Standard Podcast
[ 26:14 ]
Play Now
| |
Download
(18620)
I'm very sorry. For over a month the Sue Passmore show has been available without any sound.   I've run into my friend and fan of For the Sake of the Song , Jeff Potts, several times in the last six weeks.  Each time, he mentioned that he was unable to open my For the Sake of the Song episode with Sue Passmore.  I agreed that was very peculiar and could not figure out what might be going wrong.  Today Jeff emailed me again and I decided to download it myself to see what was up.  What was up was twenty-six minutes and fourteen seconds of silence.   My apologies to all 500+ people who downloaded a blank show.  And here for your listening pleasure is my interview with Sue Passmore, now with 100%  more audio.    Thanks Jeff for your persistence in reminding me.
Update:  Since I first released this Show the Good Lovelies won a 2010 Juno for Best Folk/Roots Album by a Group.  Congratulations Sue, Kerri and Caroline.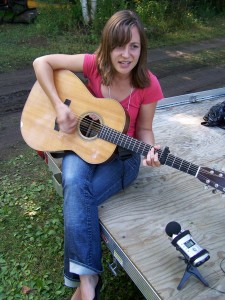 Sue Passmore is the second member of the Good Lovelies that I have been able to interview for my podcast. We found a semi quiet spot in the woods during a break in the rain at the  Eaglewood Folk Festival to sit down and talk songwriting. I interviewed her bandmate, Caroline Brooks over a year ago.  It has been an interesting exercise to talk to different members of the same band about songwriting.  This summer,  I'll be looking for Kerry Ough at festivals to complete the set.
Songs:
Theme Music: For the Sake of the Song (©2003 S. McGaughey)
Alone without a Song(© Sean McGaughey)
Into the Spotlight  (© Sue Passmore)
You can leave comments on the blog, send me an email to ductapeguy at hotmail dot com, send me a voice feedback at 206-337-0611, or join the For The Sake of the Song Podcast group on Facebook.
Add this podcast to your favorite podcatcher at
http://feeds.feedburner.com/For_The_Sake_Of_The_Song