4tsots with Sue Passmore
[ 26:14 ]
Play Now
| |
Download
(18620)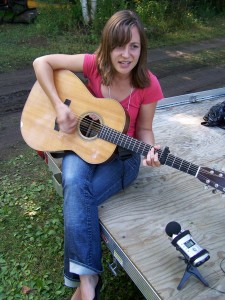 Sue Passmore is the second member of the Good Lovelies that I have been able to interview for my podcast. We found a semi quiet spot in the woods during a break in the rain at the  Eaglewood Folk Festival to sit down and talk songwriting. I interviewed her bandmate, Caroline Brooks over a year ago.  It has been an interesting exercise to talk to different members of the same band about songwriting.  This summer,  I'll be looking for Kerry Ough at festivals to complete the set.
Songs:
Theme Music: For the Sake of the Song (©2003 S. McGaughey)
Alone without a Song(© Sean McGaughey)
Into the Spotlight  (© Sue Passmore)
You can leave comments on the blog, send me an email to ductapeguy at hotmail dot com, send me a voice feedback at 206-337-0611, or join the For The Sake of the Song Podcast group on Facebook.
Add this podcast to your favorite podcatcher at
http://feeds.feedburner.com/For_The_Sake_Of_The_Song