Standard Podcast
[ 26:45 ]
Play Now
| |
Download
(8886)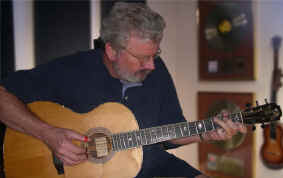 Paul Mills is known in the Canadian roots music scene as a musician, songwriter, producer, co-founder of Borealis Records and as a former sideman of Stan Rogers.  He often performs under the name of Curly Boy Stubbs.  We met at the booth of guitar maker, Ron Belanger at the Mariposa Folk Festival.  You can hear the sounds of the  festival around us as Paul shares some stories from his long career as a producer, and we discuss songwriting, and the role of the producer in the recording process.
Songs:
Theme Music: For the Sake of the Song (©2003 S. McGaughey)
Clank Remembers(© Paul Mills)
Living in the Country  (Pete Seeger)
Links:
Paul Mills website
The Millstream studio– Paul's studio
You can leave comments on the blog, send me an email to ductapeguy at hotmail dot com, send me a voice feedback at 206-337-0611, or join the For The Sake of the Song Podcast group on Facebook.
Add this podcast to your favorite podcatcher at
http://feeds.feedburner.com/For_The_Sake_Of_The_Song