4TSOTS with Jody Gnant
[ 30:38 ]
Play Now
| |
Download
(5763)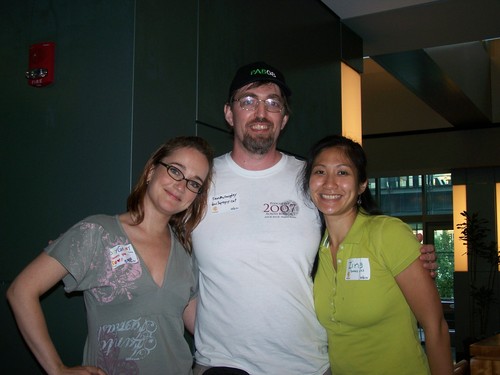 Last summer,  I attended Podcamp Boston.  While Zina (from the Secrets of Battlestar Galactica Podcast) and I were walking in downtown Boston heading for lunch, we saw a beautiful young lady walking down the street talking into laptop held in front of her.  It turned out that she streams her whole life on the Internet.  Later at podcamp, I ran into her again and introduced myself.  She is Jody Gnant and she has an amazing story to tell about indie marketing over the net.  She actually traded one year's rent on her house in Phoenix to Kyle MacDonald from one red paperclip for studio time to complete her album.  We talked at the end of a long day at Podcamp Boston about songwriting, new media, and took questions from her live streaming audience.   Check out her music and lifecast at jodygnant.com.
Songs:
Theme Music: For the Sake of the Song (©2003 S. McGaughey)
From the Middle (© Jody Gnant)
Me Who Changed (© Jody Gnant)
Great Day  (© Jody Gnant)
You can leave comments on the blog, send me an email to ductapeguy at hotmail dot com, send me a voice feedback at 206-337-0611, or join the For The Sake of the Song Podcast group on Facebook.
Add this podcast to your favorite podcatcher at
http://feeds.feedburner.com/For_The_Sake_Of_The_Song
For the Sake of The Song is fast approaching its 100th episode.  Join us for a live recording celebrating this milestone on Friday June 5, 2009 at 7pm EDT at the Rye Cafe in Midland, Ontario.   My guests for the evening will be Marlon Gibbons, Jennifer Ives and Ken Allen.  We will be recording one or two live episodes of For the Sake of the Song followed by musical performances by each of us.  We will also be streaming the event live over ustream.  Stay tuned to ductapeguy.net for more details.  There is no cover charge for this event, but we will be accepting donations for Stellula Music in the Schools.