4TSOTS with Jonathan Byrd and Corin Raymond
[ 1:00:03 ]
Play Now
| |
Download
(5923)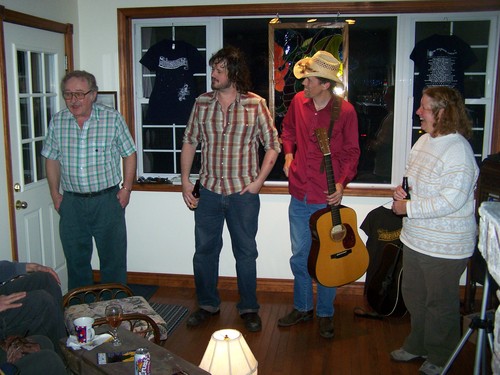 Long time friends of For the Sake of the Song may remember a show41 from January 2008 with  Corin Raymond and Sean Cotton: The Undesirables.  Exactly a year ago on April 29, 2008, I caught up with Corin Raymond again, this time touring with North Carolina Songwriter, Jonathan Byrd.  At the time they were just embarking upon a house concert tour of Canada together and were both preparing for the launch of new solo albums:   Jonathan Byrd's:  The Law and the Lonesome, and Corin Raymond's: There will Always be a Small Time.  We did the interview surrounded by twenty thousand records in  Jiving Johny's basement.  The environment and the conversation were absolutely brilliant.  Unfortunately, the podcaster was not so brilliant.  I had the recording levels set too high and the quality of the recording leaves much to desired.  I kept putting off editing the show because of that.  In the end, it's too good a conversation, and Jonathan Byrd is too good a songwriter not to share with you.  Please bear with the sound quality. It's worth it.
Songs:
Theme Music: For the Sake of the Song (©2003 S. McGaughey)
Fiddle and Bow (© Jonathan Byrd)
The Law and the Lonesome (© Corin Raymond and Jonathan Byrd)
There Will Always Be a Small Time (© Corin Raymond and Jonathan Byrd)
May the River Run Dry  (© Corin Raymond and Jonathan Byrd)
Coyote (© Jonathan Byrd)
You can leave comments on the blog, send me an email to ductapeguy at hotmail dot com, send me a voice feedback at 206-337-0611, or join the For The Sake of the Song Podcast group on Facebook.
Add this podcast to your favorite podcatcher at
http://feeds.feedburner.com/For_The_Sake_Of_The_Song
For the Sake of The Song is fast approaching its 100th episode.  Join us for a live recording celebrating this milestone on Friday June 5, 2009 at 7pm EDT at the Rye Cafe in Midland, Ontario.   My guests for the evening will be Marlon Gibbons, Jennifer Ives and Ken Allen.  We will be recording one or two live episodes of For the Sake of the Song followed by musical performances by each of us.  We will also be streaming the event live over ustream.  Stay tuned to ductapeguy.net for more details.  There is no cover charge for this event, but we will be accepting donations for Stellula Music in the Schools.