FTSOTS with Carol Teal and David Joyce
[ 28:12 ]
Play Now
| |
Download
(6968)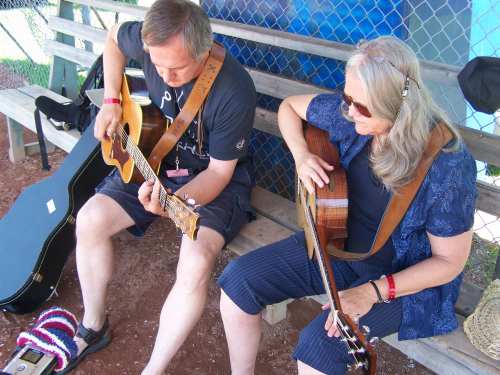 I've known Carol Teal and David Joyce for over 10 years. We have shared stages together and enjoyed many musical gatherings together. After over a year of trying, we were able to record a session of For the Sake of the Song at the Mariposa Folk Festival. For this episode, Carol and I both played a lovely handmade guitar built by Ron Belanger. Dave played his custom guitar which as originally built for Smiley Bates.
We also discussed Carol's work as executive director of ArtsCan Circle, a charity which provides musical instruments and musician mentors to children in remote northern communities on Laborador and in Quebec.
Songs:
Theme Music: For the Sake of the Song (©2003 S. McGaughey)
Bad Weather(© Carol Teal)
Canadian Tire Money (© David Joyce)
Nitassinan (© Carol Teal)
You can leave comments on the blog, send me an email to ductapeguy at hotmail dot com, send me a voice feedback at 206-337-0611, or join the For The Sake of the Song Podcast group on Facebook.
Add this podcast to your favorite podcatcher at
http://feeds.feedburner.com/For_The_Sake_Of_The_Song