Archive for August, 2008
Filed Under (
blog
) by Sean on August-31-2008
Today is the fourth annual  Blog Day where we are asked to list 5 blogs which may be of interest to our readers then  link back to Blogday.org with your post.
Here from the Home Office in Gladstone, Manitoba are five excellent unsung blogs from my google reader.
Get Rich Slowly Exactly what the title says. It is interesting to note that the blogger is making a full time living writing about living a frugal lifestyle.
N.E.R.D Many works in the tech department of Ryerson University.  He is one of the gracious Ryerson hosts for Podcamp Toronto.  He blogs about  linux, Mac computers, photography and all things Geeky.
The Clever Sheep Rod Lucier is the brother of infamous Canadian Podcaster Tom Lucier of Shane and Tom's Squeezebox.  Rod writes about using Web 2.0 technology in public schools.
Michael Geist's Blog Michael Geist is a law professor and one of Canada's leading authorities on copyright law.  He is leading the fight against the ill-advised Bill C-61.
Those are my picks.  Join the conversation and share some of your favorite blogs.
So I got tagged twice with the 6 Random Things About Me meme by Stevie Z. and Maureen Blaseckie .
I used to perform in musical theatre at the South Simcoe Theatre – Home in Cookstown, Ontario.
I went to the seminary for 4 years.
Yes, I did send my Ductape Song to the Red Green Show. … and nothing every happened as a result of it.
I played trombone and baritone horn in high school. I traded my baritone and a website design for a hand-made Peter Cox archtop guitar. The Peter Cox built guitar is now for sale. I am buying a guitar handmade by Ron Belanger .
In 1990 I lived in 7 different residences in 3 provinces and the Northwest Territories.
I'm not above recycling meme answers.
Now to pass it on. I'm supposed to tag 6 people, but seeing as I was tagged twice, I'm going to post my answers here on For the Sake of the Song and on the Catholic New Media Roundup.
My six tagees here are: Andrew Beatty, Sarah McGaughey, George Motoc , John Meadows, Daniele Rossi and Shane Shennan.
And to move this meme into Librivox Land: Tag to Kayray, Hugh McGuire, and Cori Samuel .
Okay, for those of you tagged, here (apparently) are the rules, as I was given:
1. Link to the person who tagged you.
2. Post the rules on the blog.
3. Write six random things about yourself.
4. Tag six people at the end of your post.
5. Let each person know they have been tagged.
6. Let the tagger know when your entry is up.
FTSOTS with Michael Krahn
[ 21:35 ]
Play Now
| |
Download
(5433)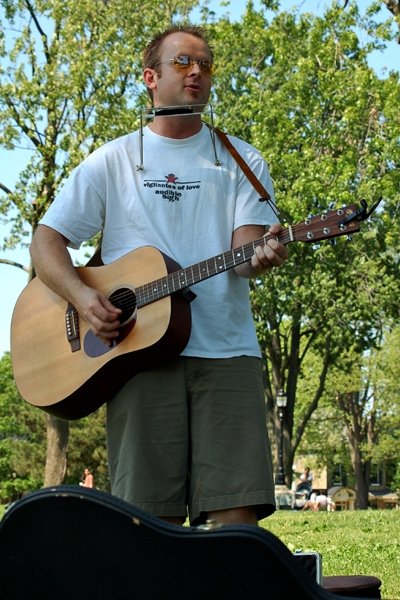 Bill Deys is a podcaster and one of the biggest supporters of my podcast and my music. You can find his Country Music Cast and Deyscast at deys.ca. This summer Bill invited my family to a barbecue at his home (about 300km from our home). He also invited Michael Krahn to bring his family to the barbecue. While we were there, Michael and I were able to record this episode. Michael Krahn is a country-rock singer-songwriter from St. Thomas, Ontario, who performs as a solo artist and with the August Calling. He also produces other artists. You can find his music, his blog and much more at michaelkrahn.com.
Songs:
Theme Music: For the Sake of the Song (©2003 S. McGaughey)
Broken Hearted (© Michael Krahn)
Lost in Moments (© Michael Krahn)
The Future Aint What It Used To Be (©2003 S. McGaughey)
You can leave comments on the blog, send me an email to ductapeguy at hotmail dot com, send me a voice feedback at 206-337-0611, or join the For The Sake of the Song Podcast group on Facebook.
Add this podcast to your favorite podcatcher at
http://feeds.feedburner.com/For_The_Sake_Of_The_Song
Last weekend I attended the Niagara on the Lake Meetup for podcasters and social media enthusiasts. It was a wonderful event attended by about 30 people and held at the beautiful Prince of Wales hotel in Niagara on the Lake. Congratulations to the organizers Keith Burtis, John Meadows, and Bill Deys for organizing a fantastic event. Some of my personal highlights included the lovely personalized tweetup badges provided by Jim Milles and Kristina Lively, Bill Deys' presentation on posting video "all" the hosting sites on the web, and seeing many friends from previous meetups and podcamps. I have received some excellent feedback from my presentation at NOTL2008 including blog posts about the event which mentioned my talk by Mark Blevis and Wayne MacPhail.
I neglected to record my talk but John Meadows remembered and he has posted audio to the talk on the NOTL site.
You can
the audio of my talk here.
I did not prepare slides for my talk, because I wanted to focus on facilitating a conversation with the other attendees rather than just present a monologue of my own thoughts.
I worked from a set of prepared notes with a few audio clips thrown in for illustration. My notes are below.
Examining Your Personal Purposes and Potential For Podcasting
Sean McGaughey NOTL Meetup
I subconsciously ripped off the theme and of this talk from John Meadows. On the Line Episode 13: http://meadowsonline.com/?q=node/15

He talks about how so much of our computing world is defined by metaphor

Email– Carbon Copies

Keyboards, Qwerty, Shift Keys, Return// Enter Keys

Dial Tone- Ring Tones

Taping audio and video
Object Demonstration: Scavenger hunt for computers in the room

Look for Laptops, phones, PDAs watches, hearing aids, clocks, projectors, portable recorders, cameras etc…

They are all computers… It's all zeros and ones. Computers are limited by the restrictions of the Hardware and software. And By the imaginations of their users

physical vs market– business limitations.

What are computers for?

What is the Internet For?

Give my "Facebook is for wrecking marriages" example.

Give examples of how the Killer App for something may differ from what the designers intended.

An argument for openness

Examples of how children use computers

My daughter conducting interviews at Podcasters Across Borders.

O– 3 years old touches screen to try click on videos—He knows how computers SHOULD behave.

I have a smartboard in my classroom. It changes both how I teach and how I interact with computers.

Once you have a touch interface you can tell how it becomes instantly indispensable– by the fingerprints on the screen.

How my use of metaphor restricted me in my podcast.

Metaphors I wish to touch upon that affect us as social media power users.

Podcast:

Uncle Seth Song: You Don't Need an IPOD
NO– You don't need an IPOD.
Play–George Motoc's metaphor of podcast like a newspaper. From his excellent podcast series, "What is a podcast?"
Why the term podcast stuck– For certain tech savvy people (like us) it instantly resonated and we could see the potential of audio and visual media and programs available on demand on the internet and brought directly to you through the magic of RSS.

It gained a life of its own as the phenomenon grew.

Why the term "podcasting" sucks.

NO– You don't need an IPOD.

Apple is VERY overprotective and litigious re: the phonemes "POD"– so watch out

It's limiting social media to a very narrow kind of mostly audio programming. We need other terms for vidcasting, multimedia chatrooms, youtube, microblogging etc…
What other terms do we use?




Friends

Friendsters vs Friends

Imaginary Friends



Community

From a hobbyist's perspective

From a business//marketing perspective

From a faith perspective

Community Divas
Bottom line. It is important to examine the metaphors we use to understand the devices and processes. We can be limited by the metaphors we bring with us. Our metaphors may also mask 'but what is it really for.'
FTSOTS with Tony Decker of Great Lake Swimmers
[ 26:18 ]
Play Now
| |
Download
(25531)
I met with Tony Decker, the lead singer-songwriter for Great Lake Swimmers at the Twisted Pines Music in Movies festival just prior to his mainstage set. Since 2002 Great Lake Swimmers have produced 4 albums of ethereal atmospheric pop-folk music.
Songs:
Theme Music: For the Sake of the Song (©2003 S. McGaughey)
Moving Pictures, Silent Films (©Tony Decker)
Song For the Angels (©Tony Decker)
Where In The World Are You (©Tony Decker)
Name Dropping
You can purchase Great Lake Swimmers music, find out when they are playing near you, and all sorts of great trivia at greatlakeswimmers.com or at their record label weewerk.com.
You can leave comments on the blog, send me an email to ductapeguy at hotmail dot com, send me a voice feedback at 206-337-0611, or join the For The Sake of the Song Podcast group on Facebook.
Add this podcast to your favorite podcatcher at
http://feeds.feedburner.com/For_The_Sake_Of_The_Song
Stevie Z over at badlybent.ca has just posted his idea to do a monthly songwriting challenge.
I'm clipping the post here:
By Stevie Z
Partly inspired by Jonathon Coluton, partly by Bob Goyetche and partly by Robbie Hancock, I've been mulling this idea over for a couple of weeks now.   I've also looked for something like this in the past, and I couldn't find it.
What I would like to do is have a monthly "challenge" – not a contest because it's not about the best, it's about the songs.  I'm going to also talk about this on my next episode of The Sieve! which is (believe it or not) coming out this weekend.
Every month I'm going to present a topic, a genre, and a specific word or line, and it will be up to the presenters to submit a song that follows those rules.  I'm trying to make it fairly specific because it is, after all, an exercise in songwriting, and the more challenging it is, the more, um, challenging it is…..wow, does that line sound stupid to you too ??
Another reason that I'm doing this is because I find personally that I need that 'spark' to get a song going.  I can't just sit down with some idea that I've come up with and bang one out – I need a couple of ideas to string together before it flows.  I'm hoping that some songwriters out there will come up with some good stuff, and I'm also hoping that people will send them in.  I might put a poll up so we can have a "people's choice" or something like that, but I might not, what do you think?  I can tell you now though, there won't be prizes, save the satisfaction of a job well done, and a tune well liked.
Here are the rules I'm thinking of settling with:
The Challenge is open to anyone, anywhere in the world (or universe), professional or amateur.  Individual musician or band.
Any instrument (or none at all) can be used…this includes spoons, saws, plate glass windows, vacuum cleaners, etc.  Submissions can be A Capella, but it still has to be a song, not a read poem…..that challenge will come later….
I would prefer it if the song was written specifically for the Challenge, which is the whole point, and the reason for making it fairly specific each month.
All submitted songs remain the property of their authors, but must be licensed under a Creative Commons License allowing non-commercial use (IE Podsafe, IE they must be allowed to legally play on non-commercial podcasts without licensing fees being paid.  For more info go to Creative Commons Canada.
Submitters have 30 days from the date the challenge is issued to send their songs in.
The songs must be in the genre specified, plus be about the topic specified, and contain the word or line…um….specified.
Recording quality is not as important as the song – if you can record a decent enough version using your kid's Fisher Price tape recorder sitting on your kitchen table, great.  Bear in mind, however, that the quality should at least be good enough so that people can understand the lyrics, and it isn't painful to listen to.
A sampling of songs will be played on episodes of The Sieve! as well as other podcasts.
All credit, links, info, etc. will be given to the song's authors.
Your mileage may vary.
This is not a 'contest' in that there are no prizes.  This is merely a challenge to get the creative juices flowing, and create some entertaining listening for people, and to get your name and songs out to the world.
That's all I can think of right now, please feel free to email me at badlybent@yahoo.ca if you have any other ideas or suggestions.  Being as this is August 1st, I'm going to issue the first Challenge this weekend on The Sieve! which you can find here. I'll also post the Challenge on this blog as well.
Good luck, and happy writing!
Stevie Z
It looks like fun.  I think I'll give it a go if I can think of something to fit the theme.  — dtg