Episode 54 with Nick Alexander
[ 53:45 ]
Play Now
| |
Download
(5453)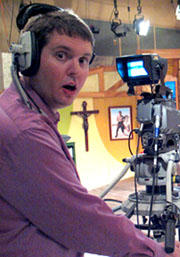 Nick Alexander is known as the Catholic Weird Al. He writes wonderful, funny and thought provoking Catholic parodies of popular songs. He also writes Praise and Worship music. His new project is Top Catholic Songs, which hosts a site for user generated voting on Top Ten lists of Catholic Music. We had a wonderful conversation ranging from 80's pop and Christian rock music, questions of faith, to the nuts and bolts of songwriting. Nick also shared some of his novel ideas for how niche indie musicians can market their music. We had alot of fun recording this episode. I hope you enjoy listening to it.
Songs:
Theme Music: For the Sake of the Song (©2003 S. McGaughey)
This Time of 40 Days (© Nick Alexander)
Holy God We Praise Your Great Name ( © Nick Alexander)
Name Dropping
Nick Alexander Webpage
Nick Alexander on Myspace
My Previous interview with Nick Alexander for my 40 Days of Catholic Media project.
You can leave comments on the blog, send me an email to ductapeguy at hotmail dot com, send me a voice feedback at 206-337-0611, or join the For The Sake of the Song Podcast group on Facebook.
Add this podcast to your favorite podcatcher at
http://feeds.feedburner.com/For_The_Sake_Of_The_Song