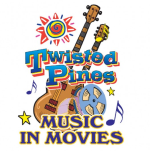 About 18 months ago, we made the difficult decision to close the Mundy's Bay Folk Society after 17 years due to rising expenses and declining attendance at our monthly live music performances.
I was quite excited when a new organization in our town sprung up to present live music. Twisted Pines Music and Art produced a 5 day festival of music, movies and visual arts last Victoria Day weekend at a variety of locations in Midland and Penetanguishene. I helped out stage managing one of the stages, and recording as many interviews as I could for my podcast. It's not often that so many songwriters are in one place in my hometown.
Over the past year Twisted Pines has been quite active in producing a variety of events in my area: concerts, movies, author readings at local libraries, performances in local schools and regular after school workshops at the Penetanguishene library.
This May 9-19, they are presenting Twisted Pines Music in Movies featuring nightly screenings of music themed movies and documentaries, followed by Q and A sessions with filmakers and musicians involved in the movies and performances by some amazing bands. Festival Performers will also be doing presentations at a number of local schools during the weeks of the Festival. I'll be there recording interviews, helping out where I can, and enjoying the general vibe of the festival.
Over the past year I have produced nearly a dozen programs in conjuction with Twisted Pines Music and Art. Check out the following:
Episode 8

John Wort Hannam
Episode 15
Canada Day Special with Jowi Taylor
Episode 19
Nancy Dutra
Episode 20
Wendell Ferguson
Episode 21
Hammel on Trial
Episode 22
Magoo
Manitoba Hal Brolund
Episode 49
Paul Quarrington and Pork Belly Futures

TwistedPines-Words and Music

A smattering of the November 30th Evening Featuring an introduction by Paul Northcott, Music by Pork Belly Futures, poetry by Holmes Hooke, and a reading by Claire Cameron with background music by Pork Belly Futures. A good time was indeed had by all.

Twisted Pines at the Penetanguishene Library

Claire Cameron and Paul Quarrington Reading at the Penetanguishene Library November 30.

In November I was asked to give a presentation on listening to and creating podcasts at the Penetanguishene Public Library in conjunction with Twisted Pines. Here are my slides and notes:I have a podcast and you can too

To Be Released: Interview with Washboard Hank and Paul Northcott remembering Willie P Bennet and

promoting the upcoming Twisted Pines Movies and Music Festival.