Episode 44 with Manitoba Hal
[ 29:52 ]
Play Now
| |
Download
(2970)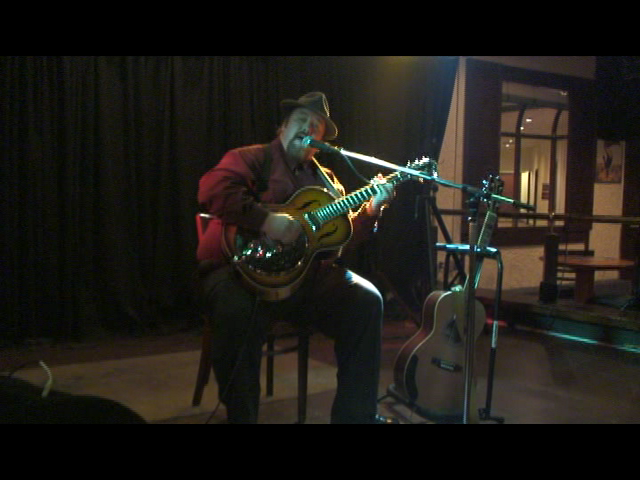 For 20 years, Manitoba Hal Brolund has been travelling all over North America, perfecting his blues sound. He is a master of the blues and a Master of the ukelele. He is also a master at using the internet to promote his music, expand his audience, and develop new revenue streams. He has 8 CDs available at manitobahal.com, CDbaby.com, Apple iTunes, Bitmunk, PayPlay, Tradebit, MusicIs Here, Chondo, or GreatIndieMusic.
Tomorrow, February 29, 2008, he is releasing his new CD Worn Out Shoes. The show will be live from Montreal Canada and also happen simultaniously in Second Life at the House of Flames. A couple live versions of songs from that CD appear on this episode. Enjoy.
Discography
Worn Out Shoes – 2008
Come The Ruination– 2006
Resonator – 2005
Ukulele Bluesman – 2005
This Condition – 2003
Kick At The Stones – 2002
Railroad Bill and Other Folk Blues – 2000
When Hal Freezes Over – 1999
Flatland Cafe – 1997
When he's not on the road on an endless tour, you can find him on Second Life: performing as his alter-ego Forsythe Whitfield. He is currently working on a new CD with David Essig and Mae Moore, which should be ready this spring.
Songs:
Theme Music: For the Sake of the Song (©2003 S. McGaughey)
Worn out Shoes– (© Hal Brolund and Mae Moore)
Dark Beauty (©2003 S. McGaughey)
Walls of Jerico (© Hal Brolund)
Name Dropping (links)
Web: www.manitobahal.comMySpace: www.myspace.com/manitobahal
CDBaby: www.cdbaby.com/cd/manitobahal
Second Life: Forsythe Whitfield – www.myspace.com/slbluesman
Add this podcast to your favorite podcatcher at
http://feeds.feedburner.com/For_The_Sake_Of_The_Song