The Edmonton Journal ran a weekly comic in the Mid 1980's called Bub Slug. It's authors eventually spun it off into a successful syndicated cartoon called Betty. In one memorable episode (at least I still remember it 20 years later), Bub and Betty came into some money and joined the Edmonton Cultural Society. The women of the cultural society were raising money to traslate Cats and 42nd Street into Italian, so as to make them cultural.
Today, Culture Canada launched podcasts.culture.ca to showcase Canadian culture in podcast form. My friends Hugh McGuire and Chris Goringe from Librivox were active behind the scenes setting this up. I'm not sure that it differs substantially in content from the amazing Canadian Podcast Directory at canadapodcasts.ca, but it is really neat to see my podcast and my picture featured on an official Government of Canada website.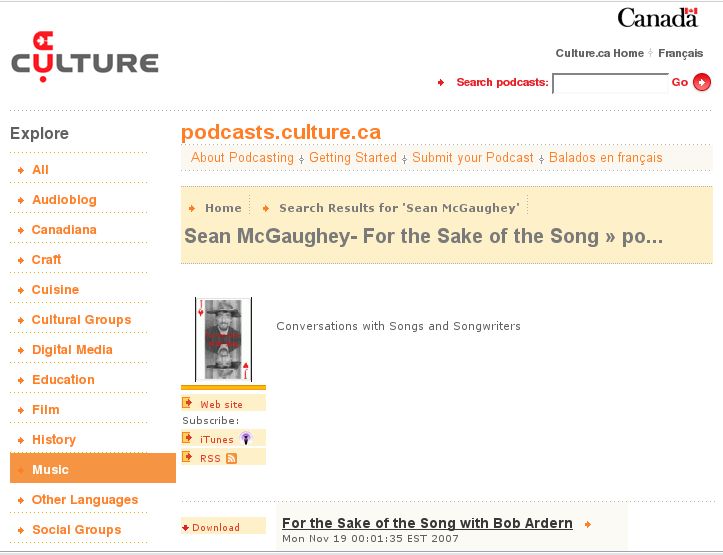 That seals it. For the Sake of the Song is officially a Canadian Cultural Experience. Sort of like Tim Hortons and Beaver Tails I guess.
Edit: The folks at the Canadian Cultural Podcast Directory sent me a nifty badge to add to my site. WooHoo double affirmations that I am cultural.