Archive for October, 2007
Podcamp Boston Special Report #4
[ 10:10 ]
Play Now
| |
Download
(2926)
I called Bill Deys of the Deyscast, Country Music Cast, and host of the Podcamp Boston back chat room shortly after Podcamp wrapped up. We spoke of the announcement that Podcamp is lifting Rule #4 that all podcamps be free to participants. This may help reduce the number of people who register for Podcamps but do not show up. We also talked about how I am an Internet Visionary. Three weeks ago I posted LOLephants on my Catholic Canadian blog, with lolcat captions on pictures of me. It included this picture of me running? from a T-Rex.
As often happens at conferences like this, a bunch of people had a crazy idea about LOLCats with dinosaurs. Before the end of the conference, Nico Pin had developed a website design, they had registered the domain and lolsaur.com was born.
I think it's so cool that I had a similar idea three weeks earlier. Way to go guys. Bill handed the phone to Nico at this point. Nico and I talked about the ongoing discussion around having wifi at conferences like this. On the one hand, it's a boon to people like me who can't physically be at the conference, but can still participate via the Internet. On the other hand, it can detract from the SOCIAL part of social media– actually meeting the people you have encountered on the internet.
I hope you enjoyed my remote coverage of Podcamp Boston as much as I enjoyed creating it. Thanks to Mark, Bob, Nico, Jay and Bill for taking the time to talk with me.
Oh and I WILL be at Podcamp Toronto on February 23 and 24.

Podcamp Boston Special Report #1
[ 2:35 ]
Play Now
| |
Download
(2656)
I can't be at PodCamp Boston 2 this weekend.  Woe is me.  But I can participate through the magic of the Internets.  I've been watching some of the sessions on blogTV.com and participating in the conversation on twitter and on Bill Dey's chatroom.  I'm also preparing periodic special reports live from Podcamp Boston.  If you are at podcamp and you'd like to give me a brief update, skype ductapeguy.
Here is my first special report from Bob Goyetche of the Bob and AJ Show, Podcasters Across Borders, and the Canadian Podcast Buffet.
Breaking News:Â  Podcamp Toronto 2008 has been just announced for February 23-24, 2008
Episode 29 with Olivia Duck
[ 29:04 ]
Play Now
| |
Download
(4033)
This year I worked on the Open Stage Crew at the Mariposa Folk Festival, alongside with Ken Allen and Jennifer Ives, who have been previous guests on For the Sake of the Song. At the soundboard for most of the weekend was Olivia Duck, who is a dynamic singer-songwriter in her own right. I enjoyed several great conversations with Olivia over the weekend and we were able to walk to the ball diamond a bit away from the bustle of the festival to record an interview. Olivia is an Orillia resident who has been singing and writing for many years. She has recently returned to Orillia after about 5 years living in the big city of Toronto and we are sure glad to have her back.
Songs:
Theme Music: For the Sake of the Song (©2003 S. McGaughey)
Daffodils in the Rain ( © Olivia Duck)
Lady Ashley ( © Olivia Duck)
Walk it Off ( © Olivia Duck)
Namedropping (Links discussed in this episode)
Olivia Duck on Myspace
Olivia Duck on coffehouse.ca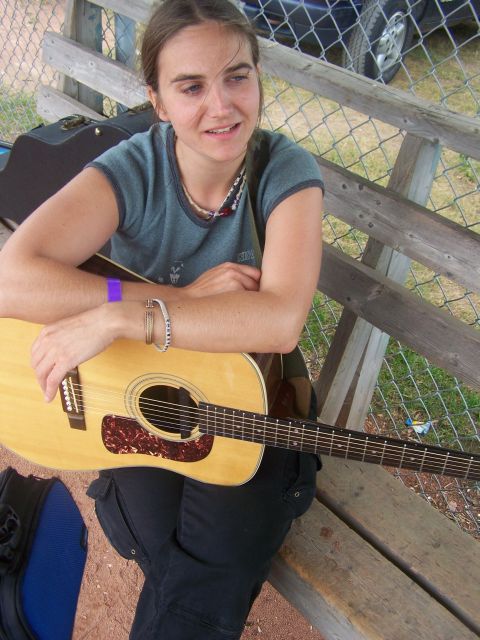 Episode 28b Special: Toronto Street Bass
[ 2:53 ]
Play Now
| |
Download
(2141)
Last weekend I went to Toronto to the Linux Caffe for a workshop on how to use the free, Open Source, Ardour Digital Audio Workstation software. I had high hopes for the workshop which would be attended by linux geek musicians, and I was not disappointed. The facilitator for the workshop, Ben Powers wrote much of the documentation for the ardour project and he knows the program inside and out. One of the other attendees, who introduced himself as Greg, posed many insightful questions which led be to believe that he was likely a very experienced musician. On my way out the building he led me across the road on the corner of Harbord street to see a Bass he had made— out of a light standard. This really has to be seen and heard to be believed so have a listen to this special podcast episode. In the interview, Greg mentioned that he has made and maintains 2 more streetlamp basses: in Kensington Market, and on the Philosophers walk near to the Faculty of Music at the U of T.
My guest next episode is Olivia Duck. As some of you may know, I have several months of For the Sake of the Song scheduled ahead of time in WordPress. I move them around a bit, and for some reason the Olivia Duck show automatically released on October 10 instead of October 20. If you got it early, I hope you enjoyed the episode. Otherwise, look for it to arrive on October 20.