Archive for May, 2007
Borrowed Land
[ 3:19 ]
Play Now
| |
Download
(2476)
After 11 years, the family of Dudley George finally have some closure and vindication. Dudley George was participating in a peaceful occupation of the Ipperwash Provincial Park in 1995 to protest an ongoing land claim dispute of his band. The federal government had taken part of their reserve in 1942 to build an army base, and never returned it.
Dudley George was killed by a police sniper in a botched OPP raid on the peaceful protest.
11 years later a provincial inquiry has finally published its results. Here is a brief summary from a CBC report.
Ipperwash inquiry spreads blame for George's death
"The government of former Ontario premier Mike Harris, Ottawa and the OPP all bear responsibility for events that led to the 1995 death of Dudley George, the head of the Ipperwash inquiry said Thursday."
At the time of the Ipperwash protest, I wrote "Borrowed Land" to summarize my feelings on the issue. I recorded it on my CD. Have a listen.
Episode 10 with Chuck Baker
[ 30:38 ]
Play Now
| |
Download
(3151)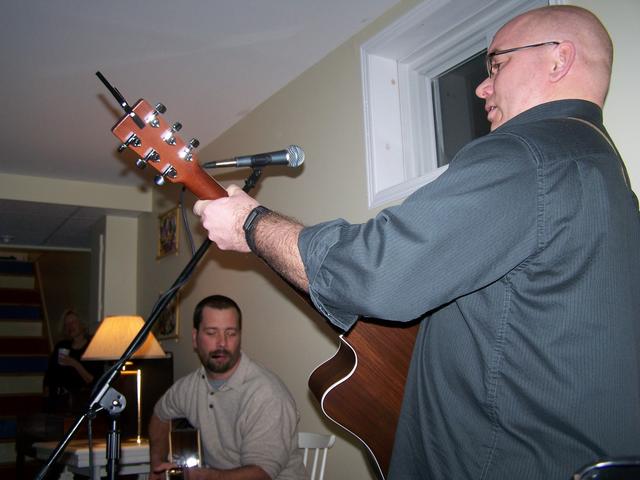 I had a blast recording this show with Chuck Baker in my basement. Chuck is a dynamic guitarist and songwriter with a strong pop, jazz and rock background. He has recently released an acoustic CD, A Little Piece of Quiet, which blends his dynamic driving rhythms with deeply personal and insightful lyrics. Chuck is also a visual artist and art teacher, and in a very strong sense, he paints pictures with his lyrics. We had some fun recording this and even talked a bit of shop because we are both teachers.Songs:
Theme Music: For the Sake of the Song (©2003 S. McGaughey)
It's a Game (©2003 S. McGaughey)
Athenian Banquet Hall Church(© Chuck Baker)
On the Radio(© Chuck Baker)
On the Radio is dedicated to the late Matt Osborne, a powerful songwriter and friend of Chuck's who passed away at the age of 32. The official Matt Osborne memorial page is at http://musicface.com/matt/ . You can listen to his music at New Music Canada.
Add this podcast to your favorite podcatcher at
http://feeds.feedburner.com/For_The_Sake_Of_The_Song
Episode 9 with Russ Clayton
[ 26:10 ]
Play Now
| |
Download
(3312)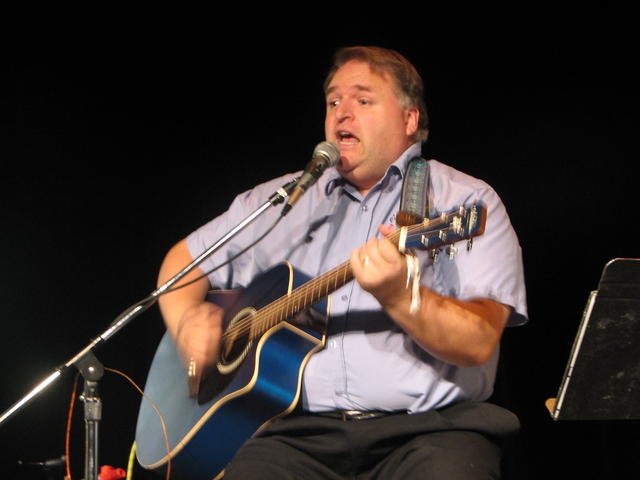 Russ Clayton is a longtime friend and musical compadre. He's a fellow children's entertainer and songwriter. About 4 years ago, he recorded my CD, For the Sake of the Song. He has also recorded my Duct Tape Song on his 3rd children's CD.
Russ' website: http://russmusic.net
RussTV YouTube program for children.
Songs:
Theme Music: For the Sake of the Song ©2003 S. McGaughey
The Little Bitty Teeny Tiny Two Inch Strip (The Duct Tape Song) ©1999 S. McGaughey
Song of the Seasons © Russ Clayton
Patience and Time © Russ Clayton
Add this podcast to your favorite podcatcher at
http://feeds.feedburner.com/For_The_Sake_Of_The_Song
Episode 8 with guest:John Wort Hannam
[ 23:11 ]
Play Now
| |
Download
(3855)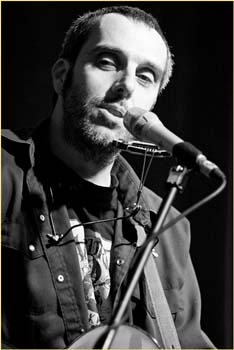 It is just 3 days until the Twisted Pines Art and Music Festival begins here in Midland, Ontario. This weekend, I recorded a podcast with John Wort Hannam, who will be one of the many fine performers at the Twisted Pines Festival. I will be volunteering at the kid's stage and I'm looking forward to a weekend of fine music. John Wort Hannam is a country flavoured folk singer-songwriter who lives in Fort MacLeod Alberta. He describes his music as "Blue Collar Roots Music". He recently toured Ontario to promote his new CD, Two Bit Suit. I was able to interview him after a very successful house concert I attended. During the interview, we discussed some of his influences as: Lyle Lovett Billy Bragg, Fred Eaglesmith, Townes Van Zant.
Links discussed in this episode:
www.johnworthannam.com
http://cdbaby.com/cd/johnworthannam2
http://www.myspace.com/johnworthannam
Steve Dawson
Purchase John's CDs at CD Baby
Songs:
Theme Music: For the Sake of the Song ©2003 S. McGaughey
Alone Without a Song ©2004 S. McGaughey
Sweet, Sweet Rose © John Wort Hannam
Two Bit Suit © John Wort Hannam
Episode 7 with Pushbuttons
[ 18:35 ]
Play Now
| |
Download
(7564)
Often I open my show by saying I have a very special guest and it's always true! This time I have extra special guests. My youngest sister, Sarah McGaughey and Kyle Glover are the core of Pushbuttons. Sarah plays violin, sings lead vocals, and writes most of the lyrics. Kyle is a brilliant polyinstrumentalist who plays lead guitar, bass, and just about anything he can coax a sound out of. In the background, you may also hear my sister's namesake, my daughter Sarah who was sitting in on the recording session at my sister's apartment.
Pushbuttons on Myspace: http://myspace.com/pushies
Songs:
Theme Music: For the Sake of the Song (©2003 S. McGaughey)
Underwear(©2005 S. McGaughey)
Thailand Boat Song(© Sarah McGaughey and Kyle Glover)
In So Far(© Sarah McGaughey and Kyle Glover)
Add this podcast to your favorite podcatcher at
http://feeds.feedburner.com/For_The_Sake_Of_The_Song
Father Roderick, the Catholic Insider, streamed his Daily Breakfast Show live on Ustream today.  I have listened to the Daily Breakfast since show #1 and the Catholic Insider before that.  Last night I wrote and recorded a parody of the Proclaimers "I would walk 500 miles"  rewritten as "I'll download 300 shows" and sent it to Father Roderick.  He played it to close out his 300th episode.  Thanks Father Roderick.   Within an hour, 11 of his listeners had downloaded my most recent podcast.  Welcome to all everybody who came here via SQPN and the Daily Breakfast.
You can find Daily Breakfast #300 – Stream Me Up, Scotty here.
This weekend we held a Librivox Worldwide Gathering at various locations around the world. Esther aka starlite, came to our house and we spent the day recording audio, and talking with librivox volunteers around the world. At the end of the afternoon, we recorded this week's Librivox Community Podcast with Catharine who lives in the San Fransisco area.
Show notes follow:
Librivox Community Podcast Show 35 is now available at the Archive.org page for the LV community podcast or from your podcatchers.
To subscribe please use this FeedBurner link FeedBurner link
The direct link to the show is
.
Host: Sean McGaughey, Catharine Eastman, and Esther Lockwood
Length: 28:00
1. Welcome to the Librivox Worldwide Gathering by Sean
2. Worldwide Recitation of the Librivox Disclaimer.
3. Greetings by Shurtagal (California), Betsie, Julian and Kirstin (Chicago), Esther and Sean (Ontario), Catharine (California) and Lucy (Australia). We also spoke with David Barnes, and Chris Hughes in Great Britain, but failed to record greetings from them.
4. Catharine, Sean and Esther had did a lengthy survey of the Childrens Literature available on Librivox. Any of the works mentioned can be found on the Librivox Catalogue by clicking on More Search Options and doing a Genre Search for children.
Here is the search page we used.
5. Sarah came to give us a child's eye view and told us about her favorite pocast, The Radio Aventures of Doctor Floyd which can be found at http://doctorfloyd.com/ . She can also be heard singing and playing in the background throughout the podcast.
6. Catharine's cats also make a cameo appearance.
7. The show ends with an impromptu singing of the Librivox Theme, followed by a father-daughter recitation of the disclaimer by Sean and Sarah.
Enjoy