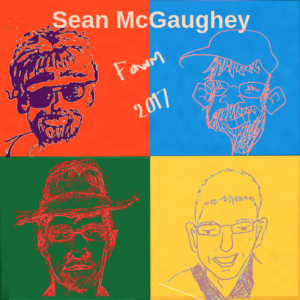 Here is a handy jukebox of my FAWM 2017 songs.

FAWM 2017 Resolutions
A Funny Thing Happened on the way to my SemiCentennial
At dinner one night in May, with all the family gathered around, I made a pronouncement.  (Yes, people sometimes actually make pronouncements).  I pronounced that for my 50th birthday in 2017 (then 18 months away), I would like to have an album release party.  Now it's a little more than 9 months away– a fitting gestation time.   
Once I started seriously thinking about it, 3 things came to mind:
Do i DIY it, or pay to have a full studio production?

How do I choose a dozen or so songs from the 150+ I have written?

It's time to learn to play my #$%!ing instruments.
It became clear quickly that with family obiligations (like paying for my teen's college, etc..), and the fact that I am very much a DIY guy that doing as much as I can myself is something I value.  So, … I hired a friend for 'music lessons' // pre production.  We have been workshopping songs and I'm down to 20 or so.  He has me trying to get better at playing to a click.  
Last winter I had been semi-regularly practicing ukulele with Aldrine Guerrerro's play along videos on youtube.  Frequently adds for Yousician would come up on my Youtube channel.  In late May, I decided to give it a try and fell into it.  Yousician is an online software and app for teaching guitar, ukulele, bass and piano.  It's kind of like a cross between guitar hero and a personal music teacher.  It uses a freemium model that gives you about 20 minutes of free lessons a day per instrument.  
Something clicked.  The combination of playing along to actual tracks, instant feedback and gamification worked for me.  For the first time in as long as I can remember I've practiced daily for over 7 months on Bass, Uke, guitar, and since November– keyboard.  On November 14, just before my birthday, I found a casio midi keyboard for $25 at a thrift store.
I am walking into FAWM 2017 with something I never thought I had– CHOPS.  Now that I have upped  my game on bass and uke especially, and I'm learning keys– I want to do more multitrack and multi-instrument work this year.  
So here's my FAWM 2017 Resolutions
As always, go where the muse leads, or in its absence forge on ahead.

Collab, Collab, Collab

I am always open to collaborations: lyrical, musical or both.

This year several family members my attempt FAWM so I'm making myself available to the kids if they need arrangement assistance or need me to play behind them.  I plan on introducing my non musician son and niece to Music Memos (IOS) or Microsoft Songmith Software which allows you to record your voice, then it magically adds accompaniment.  

Write a song or songs starting with a bassline, or a simple keyboard riff– then add chords + lyrics.

I give myself permission to post weird experiments with my multi-effects pedal, looper and keyboard. Â 

I was always "just a rhythm player and stummer'. Yousician has opened up single notes and the whole Fretboard for me.  Do you know that guy who plays bad single not leads over

everything

at a jam session. Â 

That's Me!

 Don't worry, I'm not planning on living there- just passing throught.  But I do resolve to leave room for instrumental breaks and solos in this years crop of fawm songs.

Last year I had a track with a very simple harmonica solo on a toy harmonica.  I don't play harmonica, but I was able to make it work for 8 bars.  This year I will again try to record an instrument I don't know how to play.  If you can make it make a sound, you can make music with it.

Focus on my workflow and multitrack process.

Work on overcoming my click track phobia. Â (I find a visual count in Reaper is much less intimidating) . Â 

Keep my eye on the ball.  After FAWM I'm going to have about 6 months to produce an album for my 50th.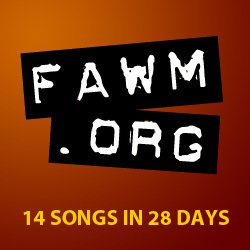 UPDATE Feb 5, 2017
Dear FAWM, I'm doing you wrong. I know there is a strong ethos of write it and post it here in February. There will be time for revising and polishing in the Spring. But, I've set a personal goal to release a polished album on My 50th birthday in November.
To that end, I've been practicing my little fingies to the bone for about 7 months. I have also been revising and polishing songs from my back catalogue. My next step is to get really adept with REAPER, multitracking, keeping time to a click or drumtrack.
To that end, FAWM for me this year is about production experiments. Sure I'm writing songs, skirmishing, and collaborating.
But I have yet to post the first song I started this year. It's written but I'm practicing, tweaking, polishing and trying some new techniques to produce a semi-finished track before I post it. This is what I need from FAWM this year.
I will keep up with the short shelf life acoustic one takes, and skirmishes, but I really am focusing on becoming more adept at the instrument that records all the others (REAPER and assorted electronic gadgets, effects and noisemakers).
Then again, maybe FAWM, I'm doing just fine.
2016 FAWM Resolutions
This is my fourth FAWM. Last year I wrote 22 songs during FAWM and 21 during 50/90. I have 150 songs on file since my teen years. about 100 are since I joined FAWM in February 2013. I'm sure some have gotten away on me over the years. Thanks FAWM.
Once again, I'm trying to bring friends along with a local songwriter's group at the Midland Cultural Centre. I'm still hoping a few local songwriters hop on the FAWM bandwagon. We meet the third Saturday morning of the month at 11am at the Midland Cultural Centre. More info at https://www.facebook.com/groups/166268340244887/
Last April, I bought a 5 string baritone uke, then several smaller soprano ukes. I think I'll probably write a few uke-pop and uke-folk songs this year.
As always, I'm very open to collaboration, whether contributing lyrics, setting another's lyrics to music or whatever.
My FAWM 2016 Resolutions
* Go Wherever the muse takes me.
* If necessary, continue forward even if I can't discern the muse.
* Write a bunch of poppy songs on ukulele.
* Live one-off acoustic demos are my comfort zone. I resolve to produce at least 3-5 multitrack demos.
* I am wide open to collaboration both online and face to face. Let's make music together.
* This year I will try to release a 5 song (or more) EP of my FAWM2016 songs on Bandcamp by the end of March.
Here's an old bio I wrote about 10 years ago.
Sean McGaughey is a folk singer-songwriter and children's musician based in central Ontario. My songs seem to revolve around childhood, family, faith and small town themes. I used to do a long running song writing podcast, For the Sake of the Song where I chatted with other writers about the craft of songwriting, and played a few tunes. I will probably do one or two FAWM themed shows.